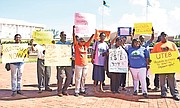 By MORGAN ADDERLEY
Tribune Staff Reporter
madderley@tribunemedia.net
IN the aftermath of a protest by the Union of Tertiary Educators of the Bahamas, the University of the Bahamas (UB) has released a statement reiterating unions' right to free assembly while noting that under the UB Act of 2016, an independent board of trustees has been granted control over "matters involving the rights and responsibilities of the university's faculty members."

On Wednesday, a small group of UTEB members demonstrated on UB's campus, unleashing a litany of complaints, including the university's failure to negotiate a new industrial agreement.

"Negotiations for a new industrial agreement began eight months late on February 19, 2018 and were suspended by UTEB on June 20, 2018, in an attempt to get a legal interpretation when the university refused to negotiate in good faith," UTEB said in a statement on Wednesday.

"UB's position, which is against all labour practices, has been that more than fifty percent of our current industrial agreement falls under the purview of the Academic Senate created under the UB Act and they were not prepared to renegotiate these clauses."
The union outlined 20 other grievances with the university.

In response to this, the university released a statement.
"The Bahamian Constitution specifically grants labour unions the right to free assembly and association," the statement begins, adding UB acknowledges and respects these rights and seeks to foster "peaceful and productive industrial relations with all unions represented at the university."

The statement noted the University of the Bahamas Act of 2016, which formalised the institution's legal transition from college to university, represented "unique and historical changes" for how UB operates.

"The University of The Bahamas Act 2016 is the institution's new operational framework and it is the university's new constitution.
"The Act designates a system of shared governance between an independent board of trustees and a newly constituted Academic Senate.

"Article 7 of the Act confirms the Academic Senate as ...the academic authority with full responsibility for maintaining the academic standards, regulation and superintendence of the education of students.
"The board of trustees has the general direction and control over the conduct of the affairs of the university including, but not limited to, matters involving the rights and responsibilities of the University's Faculty members.
"Both the Academic Senate and board of trustees are assigned specific powers, functions, duties and responsibilities under the Act.
"All industrial agreements to be negotiated by the university will have to be guided by and aligned with the new University of The Bahamas Act.
"All necessary procedural and substantive provisions as stipulated in the Industrial Relations Act regarding collective bargaining agreements will be adopted as relevant to the higher education context."
During the protest, UTEB membership secretary Erica Hepburn told reporters that university administrators have been given a timeline of until December 7 — after which it will be decided if industrial action will take place.