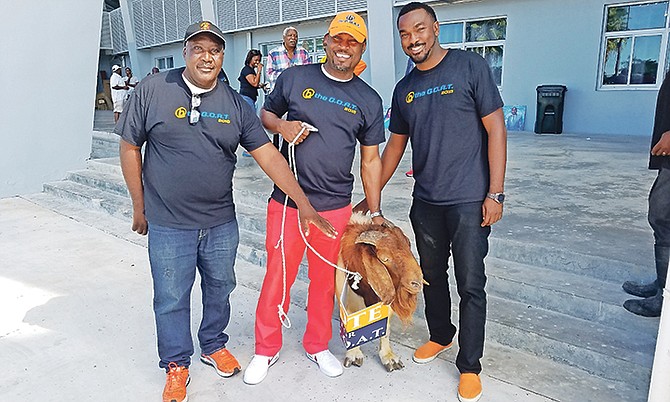 By BRENT STUBBS
Senior Sports Reporter
bstubbs@tribunemedia.net
Drumeco Archer and his 'Be the G.O.A.T' - Greatest Of All Time - team, all dressed in their black t-shirts, pulled off a landslide victory over incumbent president Rosamunde Carey and her Bonafide Innovators Saturday to become the new president of the Bahamas Association of Athletic Associations for the next four years.
In what turned out to be a peaceful process although there were some late developments over a constitutional matter, Archer emerged with a 41-26 win over Carey. As the other members of his slate went in one by one, Archer went outside of the Thomas A Robinson Stadium and got a real goat off the back of a truck to signify his triumph.
He was joined by Ravanno Ferguson, the first Grand Bahamian to win an executive position on the board, as first vice president over Carl Oliver 38-31, and Rupert Gardiner, who surprised everybody with his victory as the second vice president with 43 votes over Grand Bahamian Sandra Laing (13) and Jason Larrimore (9).
With a new constitution in place to govern the BAAA, incumbent Sharon Gardiner is now the vice president of finance with a 42-25 decision over Gail Clarke; veteran Frank 'Pancho' Rahming is back as vice president of technical 41-24 over Patrick Adderley; Kermit Taylor is the vice president of marketing and public relations with a 46-21 win over Philip Gray and Dawn Johnson is vice president of operations, 48-17, over Cedricka Rolle.
Also elected to serve as members of the council are John Ingraham with 48 votes; Mike Sands 45; Bradley Cooper 43, Sophia Higgs 39; Jerial Forbes 33 and Stephen Murray and Christian Knowles, both with 33.
New President
Going into the elections, there were a lot of bickering and arguments and now that it's over, Archer said he can proceed with the matter at hand, turning around the BAAA.
"I think it's a very sobering time for the BAAA," he said. "We have to focus on changing the culture of our federation and looking at one single cause. I think it starts with shared visions that we hope to be able to share with every member of the federation and it will be driven on a merit basis.
"The way I want to run the BAAA is to really focus on results and as the saying goes, what doesn't get measured, wouldn't get done. So we want to focus on developing coaches and have a statistical proof of how we develop coaches and I think that will translate into developing world class athletes."
He said they will be looking at promoting track and field differently, not just for the track fans, but to make the sport relevant throughout the country by doing some innovative things where the innovation of the BAAA will take shape over the next four years they are in office.
Although their campaign got side tracked by a document that was filed in the Attorney General's office making the BAAA a company, Archer said it was only a tactic employed by their opponents that backfired.
"I don't think it was an issue at all. I think the legal position is very clear. I thought that it was was just campaign strategy on their side," he stated. "I think that it is very clear that we adopted a new constitution on April 1, 2017, which governs us as it has governed us in the 55 years of of federation's existence.
"There's never been a constitution registered in the BAAA to make it valid and so I continue to make the distinction of establish a company and establishing a constitution., I think that the issue got lost and it's easy to target something that could easily been considered flawed and it was a good marketing tool, but I don't think that it worked."
Now that the elections are put behind them,. Archer said they will work immediately on identifying every head coach and manager of the national teams representing the country in 2019 by January 31, as managed in their manfiesto.
"But one of the immediate things we will do is target our strategic partners that we will work with and we want to grow our brand and grow their brand collectively. So I'm looking forward to widening our sponsorship base, not for external events, but for the operation of the federation."
On pulling out the real goat, Archer said they had so much going on that they didn't have time to kill the boat.
"So the goal has become viral for us and for me that is very special because I always believe that our new mission is to be the greatest and I'm hoping that the federation as a body of persons prove that we are the greatest federation in the world in by extension, we will produce the best athletes in the world.
"I'm pleased to see that we are on the right track,"he summed up.
New First Vice President
Not only is he the new first vice president, but Ravanno Ferguson holds the distinction of being the first Grand Bahama elected to serve on the executive board.
"It's definitely an achievement," the former sprinter said. "I appreciate the fact that everybody rallied around the great team that we put together to bring change to the federation.
We have a lot of work to do, so we have to hit the ground running. That is what we intent to do. We want to implement some great programmes and get to work."
Ferguson said it's a great team with a lot of synergy and once they work together, they could achieve great things.
"We want to see more Family Island programmes implemented and that is what we are going to push towards," he stated.
New Second Vice President
It wasn't so much a surprise that he won, but it was how Rupert Gardiner did it, garnering more points than the president and first vice president, even though there were two others contesting his position.
"It was a great accomplishment. I've been around the sport for a long time from 1981 and I know the logistics of the federation, in terms of how it was ran from Dr Nottage days, Alpheus Finlayson, Mike Sands and all of those presidents," Gardiner said. "I've served under eight or nine presidents.
"When we got together to put this dynamic team together, we felt that we were doing it for the good of the federation. We felt that the federation was losing everything. This is a good team. We have a lot of work to do and we can't just sit down and enjoy the win. We have to hit those Family Island s and do our talent search. We have to do what we put down in the book (manifesto)."
Gardiner said the federation first have to go through a "healing process" because there is a lot of "bad blood" flowing around.
"So that is something that we have to mend as one to achieve our goals," he said. "We also have to develop a two-year plan to go after Carifta because we can't continue to allow Jamaica to win all those medals that they are winning. We have to have a good junior programme and get into the Family Islands where all the raw talent is. We have to stay in touch with our coaches."
Coaches Association Endorsement
Shaun Miller Sr was one to endorse the new administration. He said he was impressed with the way they interacted with them all through the campaign.
"I would say that the change was needed," Miller Sr stressed. "We had a difficult time working with the administrators of the BAAA. There was a lot of obstacles that we had to cross. I asked for both parties to let us have a meet, sit down and talk, but I was only able to get questions in from the 'G.O.A.T' campaign because some of the mistakes the other side made was no questions from the floor.
"I was able to able to put some hard questions that the coaches wanted top Drumeco and his team and they answered them lovely and I think that started to change them ind of a lot of the coaches. We were stagnate for a while and now it is time to get this federation to a level where we are well respected throughout the world. This is all about Bahamian pride. I'm looking for good things."
Miller Sr said they have already started some negotiations with the University of the Bahamas in getting athletic certificates and programmes coming through the United States Track and Field and he's hoping they can get that back on track, as well as to get the Family Islands more developed.
Unlike the past administration, which refused to help fund their programme, Miller Sr said he's looking forward to this new administration working in a cohesive unit moving forward as they reach the entire Bahamas.