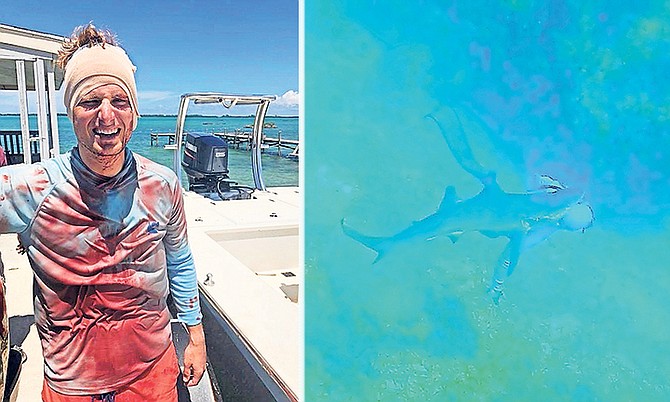 A MAN who survived a shark attack while spearfishing in The Bahamas this summer says he is "more grateful than ever" to be alive.
American Will Krause posted a harrowing video of the August shark attack and photos to his Facebook page on Thanksgiving Day, noting on this holiday weekend he was most thankful for "God's kindness and protection" over himself and his family.
Mr Krause wrote on Facebook that he was 25 feet below the surface when the six to seven foot long reef shark "struck the back of my head and neck".
He added: "I miraculously escaped with several stitches, some gnarly scars, and a viral GoPro video ... While encounters like this certainly shift your perspective, it doesn't take a shark attack to recognise God's generosity & intentionality in our lives (sic). May this Thanksgiving point you not just to the reality that you are blessed, but to the One who is giving the blessing."
In about a minute long video of the attack taken by one of Mr Krause's friends, a shark can be seen swimming towards Mr Krause shortly after his friend speared a fish. The shark bit Mr Krause on the back of the head and swam away, before the victim's friend can swim to the surface and scream "shark" to other members of their party. Mr Krause is able to swim to the surface and onto their boat, cradling his head with his hands.
Mr Krause also spoke to an NBC affiliate about his experience, saying during the ordeal he did not even know he had been bitten by a shark until he got to the surface.
"I felt this huge impact on my head and my neck. I didn't process that it was a shark bite until I got to the surface," Mr Krause told NBC4. "I could see a lot of blood that was starting to pool around me so I was starting to get nervous that my time was up," Mr Krause said.