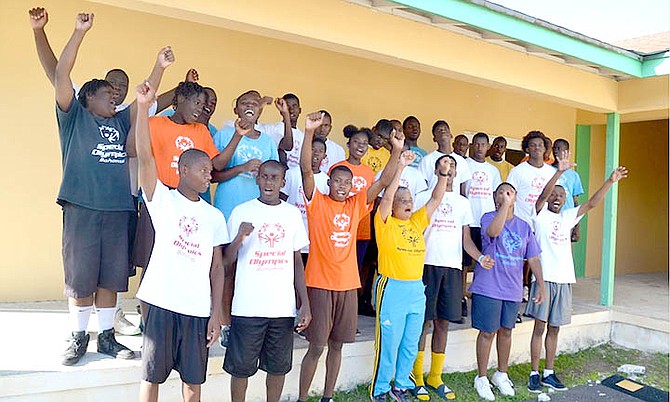 By ALESHA CADET
Tribune Features Reporter
acadet@tribunemedia.net
Under the theme "Join the Inclusion Revolution", Special Olympics Bahamas is seeking to make those with intellectual disabilities visible and involved in all aspects of everyday life.
To this end, team members are inviting individuals and businesses to become involved by purchasing and wearing one of the organisation's themed T- shirts this Friday, November 30.
Organisers noted that by joining Inclusion Revolution's T-shirt Day with a purchase of a $15 tee, Bahamians will be supporting a very worthy cause: encouraging inclusion of people with intellectual disabilities in all aspects of community building.
Launched recently by Special Olympics International, the Inclusion Revolution is set to become a five-year global campaign to further encourage as many people worldwide to join the movement by choosing to include those with intellectual disabilities in everyday life; in church activities, community projects, employment opportunities, and of course, in sports.
"In this same vein, Special Olympics Bahamas will be holding a number of T-shirt days over the next couple of years, as a combined awareness and fundraising initiative. We will continue our efforts to bring awareness to our programme and the athletes that are a part of the programme, and to raise much needed funds to continue to run the programme. Support for this first T-shirt day has been fairly good and we are expecting to see all of our athletes and employees from several businesses wearing their Special Olympics T-shirts on that day," said Gilbert Williams, Special Olympics national director.
Mr Williams said he believes this initiative is extremely important, for many reasons. He said there are still far too many people here in the Bahamas, as well as around the world, with intellectual disabilities who are being hidden away due to the stigma surrounding their condition.
"Persons with intellectual disabilities are still being taken advantage of, still being denied some basic rights and simple pleasures, and are not being celebrated enough for their abilities and achievements. We need to continue to raise the awareness levels in this country and around the world until persons with intellectual disabilities are included in every aspect of community and community building...until everyone decides to join the Inclusion Revolution," he said.
Established in 1978, Special Olympics Bahamas is a non-profit organisation with a mission to provide sports training and competition in a variety of Olympic-related sports to children and adults with disabilities. The organisation currently provides training in activities such as basketball, bocce, bowling, swimming, soccer and tennis. A total of 300 athletes across the islands of Abaco, Eleuthera, Exuma, Grand Bahama and New Providence are a part of the programme.