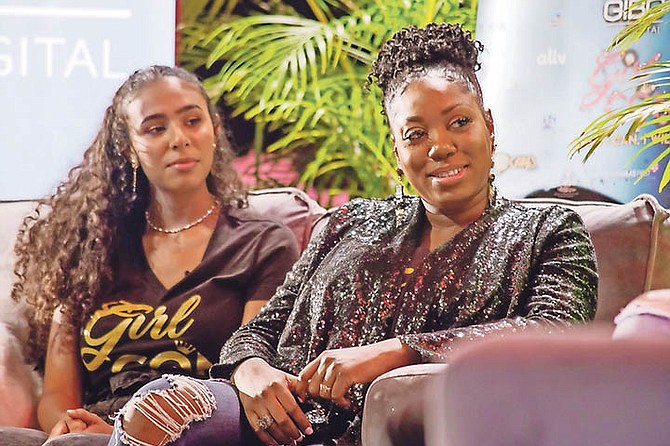 The pros and cons of social media, respect for women, sexuality and peer pressure – these were just some of the topics touched on at the second successful GirlCon in Grand Bahama last week.
More than 300 of the island's high school senior girls gathered for the annual conference last Tuesday at the Regency Theatre. Young women representing the University of the Bahamas and Government High School in Nassau were also in attendance.
Launched in November 2017, GirlCon, the brainchild of Senator Katherine Smith, was initially envisioned as a singular event focusing on the mentorship of young high school girls, and designed to encourage other women in the Bahamas to do their part in helping to develop the next generation of female leaders.
"GirlCon began with a group of women who came together who believed in the vision," explained Senator Smith.
"We put together a good event last year and then we decided we needed to continue to expose young girls to the issues they could expect to face as women. We targeted female high school seniors who were preparing to embark on the next leg of their journey into womanhood; whether that be attaining higher education, or transitioning into the workplace."
Since then, GirlCon has mushroomed into a movement and non-profit organisation, which has quickly garnered the support of men and women from all walks of life.
"We want all of the young women attending GirlCon to have a real idea of what to expect," said Senator Smith. "We want them to not only survive, but to exceed their own expectations."
At the start of last Tuesday's sessions, the girls were treated to a special greeting from Patricia Minnis, wife of Prime Minister Dr Hubert Minnis, who described the overall experience as uplifting.
"GirlCon has shown me there is much work to be done. Two young ladies from Government High School are here with me; they are a part of a mentoring programme I have been involved with for the past two years," said Mrs Minnis. "I will make it my mission to bring two girls from every Family Island high school to GirlCon next year and will do whatever I can to make that vision a reality."
This year's event focused on topics such as the positive and negative impact of social media, entrepreneurship, and wellness. Helping participants navigate the perils of social media was singer and actress Angelique Sabrina, who recounted her own painful and highly publicised experience with cyber-bullying as well as other stories of her own triumphs and challenges.
"I like the idea that GirlCon is pushing the boundaries of conversations women need to have," said Angelique, who travelled to the event from California, where she is pursuing her acting and singing career.
"I like the fact that we are able to discuss sexuality and peer pressure, and lift each other up with supportive dialogue. I have never seen this before, and though I am a very private person, telling my story was therapeutic and I watched the girls opening up as they listened to me. I hope the girls that attended the event leave here knowing that no matter what happens to them, they are supported by fellow Bahamians and by the women in this community."
Joining the singer was well-known local author and storyteller Kerel Pinder, who has built her own brand telling the stories of women, including her own, through her stage plays.
"I believe an important message coming out of this event is that we should all take the time to get to know ourselves," she said, "then the road, the career, or whatever path you choose for yourself will be easier."
Hosting the panel of speakers was popular radio personality and talk show host Renee "Natural Empress" Davis, who was joined by Janette Martin-Isaacs, a behavioural therapist, registered nurse and president of Jemi Health and Wellness, and makeup artist and entrepreneur Italia Williams-Wilson.
For Ostonya Thomas, a 12th grade student from Grand Bahama Academy, GirlCon 2018 will assuredly be an unforgettable event, as her essay "I Am…I Can…I Will" was chosen as the winner of the essay competition.
"I did a lot of research for my essay," said Ostonya, "and I was astonished that there were many men from centuries past who did not respect women at all. It was disheartening. Today we are doing better, but we have a long way to go. I am happy to be at GirlCon; this shows me that steps are being made. For me, the essay title meant I can do anything and if I decide I will do something, I will do it."
The top three essay winners, including Ostonya, second place winner Alexandra Cooper and third place winner Sabrina Brown received prize money and a chaperoned trip to attend the 63rd session of the Commission on the Status of Women at the United Nations.