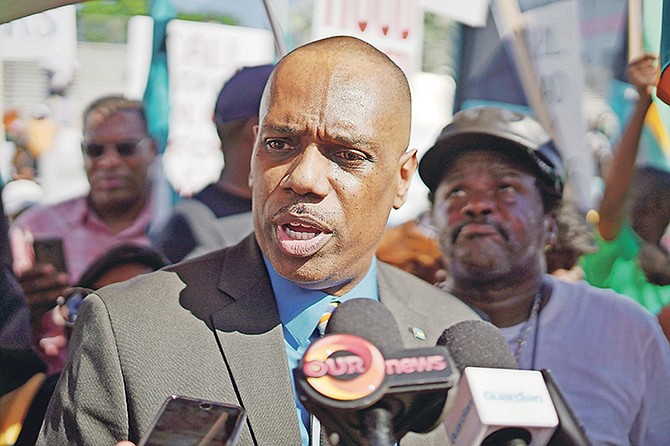 By KHRISNA RUSSELL
Deputy Chief Reporter
krussell@tribunemedia.net
THE public war of words between Free National Movement Chairman Carl Culmer and Pineridge MP Frederick McAlpine has portrayed the party as one shrouded by "division," making it easier for the public to withdraw its support for the government, former FNM Cabinet minister Frank Watson told The Tribune yesterday.
Mr Watson, who served as deputy prime minister in a previous Ingraham administration, insisted yesterday a party should never air its differences in public, adding there are sufficient mechanisms present for grievances to be addressed.
Given the "disruptive" nature of the backbench MP who has repeatedly chided the government – the latest being when he joined last Wednesday's march against the government outside Parliament – former Cabinet minister Tennyson Wells believes Mr McAlpine's fate with the FNM is already sealed.
He crossed the line, Mr Wells said, which will ensure he is a one-time member of Parliament.
The former MPs spoke out the day after Mr McAlpine fired back at the FNM chairman, suggesting Mr Culmer was not a real leader, adding the FNM was hypocritical because it has gone contrary to its campaign promises.
This was his response on Sunday to Mr Culmer who last week said the Pineridge MP was a hypocrite for standing with demonstrators and sharing their views. Mr Culmer has also criticised the protest from Baillou Hill Road to Bay Street as poorly organised and deemed it a Progressive Liberal Party event. The PLP has denied this.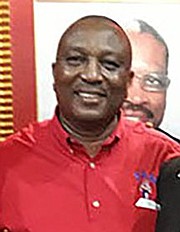 "It's bad that they - the chairman and a member of Parliament – are airing their differences in public. It's not good for the party. It shows division, which no party wants to publicly disclose at any time and at any place," Mr Watson said. "Its easy to lose support now. There ought to be a mechanism and there is the council and many other opportunities for them to resolve their difference.
"McAlpine apparently has the position that as an MP he has the right to speak out about things he feels are not right in society. I guess that is a right, which he has, but normally these things are resolved behind closed doors and not necessarily in the public as is happening now. But he may feel like he has the right to say what he wants to say.
"Obviously if he felt so aggrieved that he couldn't discuss it in party circles, I think that somebody should call him in and get him to explain why is he taking these actions. What he feels may be right, the party may feel otherwise, but at some point somebody in the party should call him in ask him where he stands.
"The things about parliamentary democracy is you try to fix what is wrong inside the party rather than public discord," Mr Watson said. 
For his part, Mr Wells told The Tribune yesterday Mr McAlpine has never given the governing party a chance to get its ducks in a row.
Mr Wells believes the MP may now have an agenda or may be upset because he hasn't gotten something he wanted.
If this is the case, Mr Wells, who is BAMSI's president and chairman, said Mr McAlpine may never get what he wants.
He said: "It would appear to me that Mr McAlpine has made his mind up to be disruptive because if you look and you analyse what has happened since the last election, he came out immediately. He didn't give the party any time to put its ducks in a row and he was critical from day one so he must have an agenda that is not in accordance with what the FNM seems to want to do and like he said he has been consistent.
"Now whether he wanted something that he didn't get I don't know but I believe he has crossed the Rubicon now and crossed the red line because the way he is behaving he can't expect to get anything anymore.
"So he probably maybe decided that he's going to go on his own or go to the PLP and be a one-time member. Because from what I know of the people in Grand Bahama they have been consistently FNM for many many years. I don't see them going with them or supporting him in what he's doing, at least that's the report that I am getting from there. That they do not support him."
In an interview with this newspaper on Sunday, Mr McAlpine insisted he was not a hypocrite or anti-FNM, but maintained it was only right that he stood with those who marched on Wednesday as both he and they held the same views.
He said if the party could not understand this, then it was hypocritical for refusing to see why many Bahamians are angry having voted for a government that has now gone contrary to what it promised.
And he's sure that's he isn't the only FNM member who feels the same. However he said he has not been afraid to speak publicly for voters because he doesn't have to "sing for his supper" as others do.
Asked if Mr Culmer's rebuke was a testament of his standing in the party, Mr McAlpine said he remains a member of the FNM, but admitted there are many in leadership and others in Parliament who have shunned him for his opposing views.