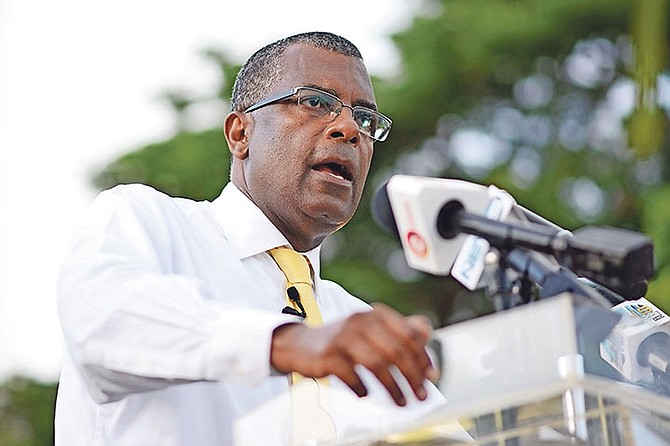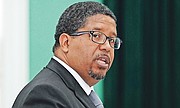 By RIEL MAJOR
PROGRESSIVE Liberal Party Chairman Fred Mitchell criticised Finance Minister Peter Turnquest yesterday for what he called "ad hominem attacks" against PLP Deputy Leader Chester Cooper.
Mr Turnquest and Mr Cooper, the PLP's finance spokesman, have been in a war of words after the latter suggested the steep revision to the 2017-2018 deficit estimates after just five-and-a-half months showed the government "simply doesn't know what it's doing".
Tribune Business reported the Exuma and Ragged Island MP argued the deficit was "not substantially different" from what the Christie administration incurred in 2016-2017, as its $661m worth of "red ink" would have been much lower if not for the impact of Hurricane Matthew.
This prompted an immediate response from Mr Turnquest, who accused Mr Cooper of "amnesia" over the four successive Bahamas sovereign credit rating downgrades presided over by his party when in office.
In response to the row, Mr Mitchell said: "I was particularly concerned after I saw a report on Eyewitness News last night about the ad hominem attacks that are involved every time Peter Turnquest gets pinned to the mat on the figures and facts which he spins with regards to his superintendents of the job of minister of finance.
"Every time the (FNM) came to office they would then say 'stop, review and cancel' and they have done it again this time. We warned them when they came into office not to believe their own propaganda. They deliberately pursued a strategy where unwisely, so they thought, that you can go to the bank borrow several hundred million dollars and pay off all your debts.
"It is impossible to pay off your debts; you cannot pay off all your debts. Debt is a fact of life and in a developing country you cannot have development unless you have debt."
He continued: "The whole question is one of management and the competence of the leadership. The moment you signal to a country that you are cutting back...when the government does that everything in this country depends on government spending. When the government does that there is a negative impact on this economy so it is no surprise that the deficit figures that they predicted have proven to be false and it's going to get worse because of their own doing."
Mr Mitchell also accused the government of moving the goalposts on the Grand Lucayan resort purchase and planned sale.
"They have said for example that they are investing in a hotel, $65m in Grand Bahama design, they say to create jobs but the first thing that happens is 200 people get laid off or about to get laid off so how many jobs did they save? Then they said they're not going to spend anything on the hotel, the hotel will be sold within six months, now they have announced that deadline has slipped and that's not going to happen and they now say they are going to spend $3.5m of Bahamian tax payers' money on a facelift of the hotel."
Mr Mitchell said as Mr Turnquest is the minister of finance, he has a credibility problem because the facts don't add up.
"The facts show very clearly that the FNM has a credibility problem. The proof is in the pudding and the pudding does not taste good."
As the Christmas season is fast approaching, Mr Mitchell said if a PLP finance minister were in office their goal would to be to ensure people have a good Christmas not continuously announce bad news.
"Instead this man gets up and it's just one bad story after the next," said Mr Mitchell.
"We must cut back, we must do this, we must do that, they laying off people soon and so forth that's not the PLP story and that's not the PLP action. So all we have to do today is to present those two stories – a narrative of stop, review and cancel or the narrative of growth.
"The FNM is the stop, review and cancel narrative and the PLP is for growth and development and I think the country does better on the PLP side."