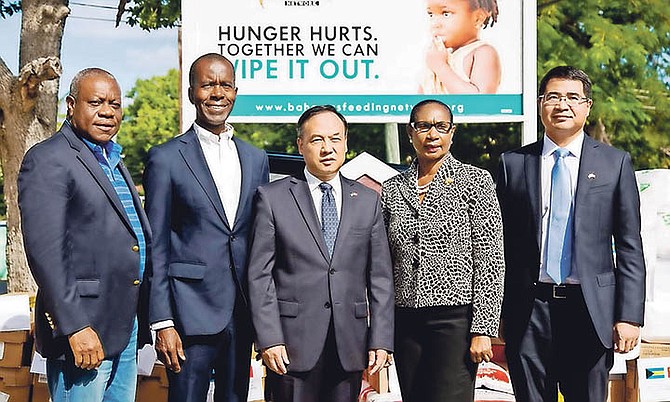 By RIEL MAJOR
THE Chinese Embassy made a generous donation of $3000 worth of food to the Bahamas Feeding Network yesterday.
The BFN cooks and distributes about 3,500 hot meals per week from Mosef House located in Fox Hill.
Phillip Smith, BFN executive director, said the donation will go a long way in helping society's most underprivileged.
"The food supplies are sufficient for 1,700 meals which will go towards helping to feed the more than 40,000 persons who do not know where their next (meal) will come from," Mr Smith said.
"Anyone that needs food can come to us. We never want to see anyone go hungry."
The BFN was launched in 2013 and provides food parcels, prepares and distributes meals through its partner feeding organisation, inclusive of about 100 churches, soup kitchens and other feeding programmes.
Huang Qinguo, Chinese ambassador, said: "Today it is my great honour to present $3000 worth of food to the Bahamas Feeding Network to support the great cause of fighting against hunger.
"As the representative of China in the Bahamas, the embassy cares about not only the political and economical relations of the two countries, we do care bout the livelihood of the Bahamian people.
"The Chinese Embassy (provided) food to the Bahamian families in need," Mr Qinguo said. "This is a kind greeting and goodwill from the Chinese Embassy and the Chinese people. The embassy will continue to support the charity work (done) in the Bahamas in the future.

"May the friendship between Chinese and the Bahamian (people) be everlasting."
From 2013 to date, the BFN has distributed more than $450,000 in food vouchers to the needy.