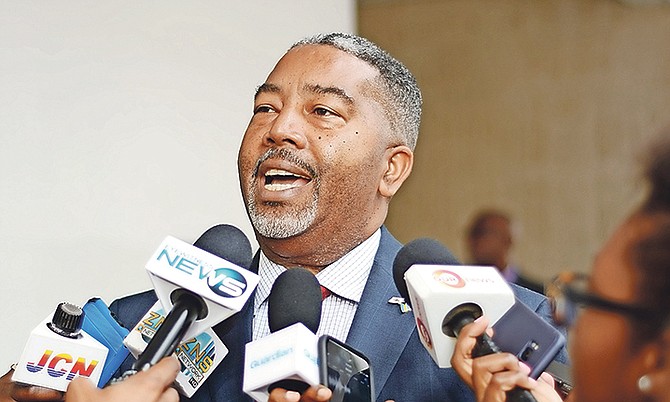 By RICARDO WELLS
Tribune Staff Reporter
rwells@tribunemedia.net
FORMER Transport and Local Government Minister Frankie Campbell yesterday said plans left in place by his team could culminate in a completed unified bus system this year.
Mr Campbell, who now serves as the minister of social services and urban development, has maintained that "all the heavy lifting is done" on the long-awaited unified system.
Mr Campbell, the member of Parliament for Southern Shores, said Cabinet has gone over all the budgetary items needed for the new system, insisting "the small details are being checked". His comments yesterday came a little over three months since he revealed in late June that a six-month pilot project would act as the test run for a new system.
Mr Campbell yesterday said, as far as he is aware, the system is proving successful and has brought the government closer to its goal of a reimagined public transportation system.
"The details were worked out," he said. "When I left, all the key details were in place and our plan for major change was ready to be rolled out and operated."
Mr Campbell added: "We have the major details such as the central bus depot, the old road traffic facility on West Bay Street, and all the minor stops along the route already hashed out.
"The budget lines, well the funds needed to manage the system, was already worked out.
"So all that was left was the small items; a couple of little things we had to discuss with some of the drivers," he said.
When asked to expound upon what he was referring to as the little things, Mr Campbell said: "The little details, we wanted to speak to the drivers about uniforms; minor details about the public service vehicles, things along those lines.
"Some aspects of the data collection system being proposed, we wanted to speak on that and how it would be used.
"So, like I said, the small things. And I trust in the coming weeks there will be so much more shared on this by the minister with responsibility for the sector.
"But be assured until then, this government and particularly the Cabinet has committed itself to seeing this project through and we are doing just that.
"You see the road traffic efforts coming along, the new legislations and so on; all a part of our effort to truly improve transport matters in the Commonwealth of The Bahamas," he said.
The pilot project had a budget of approximately $700,000.
According to Mr Campbell, through the Inter-American Development Bank, the Italian government provided a grant of $500,000. He also said the Bahamian government will complement that money with about $200,000.