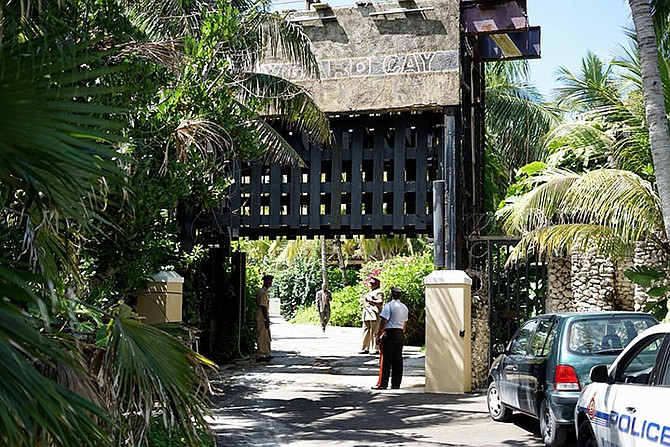 By RICARDO WELLS
Tribune Staff Reporter
rwells@tribunemedia.net
NYGARD Cay, the infamous property of Canadian fashion mogul Peter Nygard, is now in the possession of the Supreme Court.
Deputy Provost Marshal Tommy Sands along with a team of police officers seized the premises shortly after 11am on Friday, bringing to an end a two-day stand-off which saw officers blocked from entering the compound.
It follows a petition by Save The Bays to have Nygard Cay sold to satisfy the $2.2m debt Mr Nygard owes in legal costs from illegal dredging activities.
In an interview with The Tribune yesterday, Save The Bays lead attorney Fred Smith cheered the development as a victory for the country's judiciary.
Mr Smith said the recent events should serve as stark reminder to Mr Nygard that no one man is above the law.
"The property is now in the hands of the Supreme Court and the provost marshal; it is up to them to either rent it, sell it, auction it or do whatever they want to raise that $2.2m he needs to pay off his legal debts."
Mr Smith added: "This has been a long time coming, but now he knows he is not above the rules and laws of The Bahamas and he is certainly not untouchable."
Employees of Mr Nygard had successfully denied Deputy Provost Marshal Sands and a team of police officers access on Thursday, but attempts to thwart them on Friday proved unsuccessful.
A locksmith was called to open a small side gate at the entrance, allowing entry to the property.
The team moved in almost to the minute as Mr Nygard's legal team fought to have his sentencing for two contempt charges delayed.
Mr Nygard, who appeared in court on Friday, was set to hear his fate on the charges stemming from a breach of retired Justice Rhonda Bain's July 13, 2013, injunction prohibiting him from engaging in dredging activities at his Simms Point/Nygard Cay property.
Justice Indra Charles inherited execution of sentencing in the case after Justice Bain retired.
Attorneys for Mr Nygard, both past and present, appeared in court on Friday to assist in having the sentencing delayed and Justice Charles recuse herself of the process.
Attorney Keod Smith, who Justice Charles has long stated that she will recuse herself of any case he is involved in, appeared and petitioned the court to have a recusal application drafted by him, considered.
However, the request was vehemently denied after Justice Charles agreed with Fred Smith that Keod Smith had nothing to do with the sentencing portion of the case.
Coincidentally, in an affidavit filed on September 26, in support of the recusal of Justice Charles in the case, Damien Gomez, another of Mr Nygard's former attorneys, claimed that the past recusal of Justice Charles in matters involving Mr Nygard and Keod Smith should bar her from handing down sentencing in this case.
Mr Gomez in the affidavit claimed that Justice Charles, in chamber meetings with himself as the attorney on record for both Keod Smith and Mr Nygard, disclosed that a person claiming to be Keod Smith had called her son who was attending an educational institution in New York and made various threats during the conversation.
Subsequent to the call, according to the affidavit, Justice Charles made complaints to police, leading to Keod Smith being questioned on the incident.
Justice Charles ultimately recused herself in the case, and has gone on record with her intention to recuse herself of any case involving Keod Smith.
Mr Gomez said that ordeal and the way it was handled has made Mr Nygard anxious about possibility of being sentenced by Justice Charles, fearing that she suspects he may have been the person behind the call to her son.
On Friday, Mr Nygard's new counsel, the father-son team of Carlton and Rouschard Martin of Martin, Martin & Co, made the court aware of their plans to seek the recusal of Justice Charles.
The matter is adjourned to January 17.