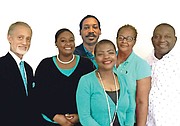 By JEFFARAH GIBSON
Tribune Features Writer
jgibson@tribunemedia.net
This year's World Mental Health Day, which will be celebrated on October 10, puts the spotlight on young people and how their upbringing and certain resulting stressors can increase the risk of mental issues in adulthood.
According to the World Federation for Mental Health (WFMH), the best path to lifelong wellness is one that starts with good mental health. The federation also indicated that young people who grow up with additional stressors due to the effects of trauma, discrimination, major mental illness, bullying and suicide are far more likely to have mental health issues throughout the rest of their lives.
To commemorate World Mental Health Month here at home, the Sandilands Rehabilitation Centre has partnered with the Bahamas Psychological Association (BPA) headed by Dr Wendy Fernander, chief psychologist at Sandilands, in hosting a one-day conference scheduled for October 10.
The conference will be held at the Franklyn R Wilson Graduate Centre at University of the Bahamas.
"The overall aim of this conference is to impart knowledge on evidence-based, culturally relevant interventions for young people across various sectors of Bahamian society as a foundation for increasing access to quality mental health care. The intended audience would include persons in the community working with young people, such as guidance counsellors, psychologists, psychiatrists, psychiatric nurses and community workers," said Joseph Wood, of Sandilands.
Speakers will include both international and local mental health professionals. They will address such topics as: Cultural Competence in Mental Health: Understanding Haitian World Views; Designing Effective School-Based Interventions, and Culturally-Adaptive Psychotherapies.
The objectives of this one-day conference are to: provide an overview of the basic components in providing culturally-relevant interventions, outline the basic requirements for designing, monitoring and evaluating interventions, recognise the need for ongoing training and capacity building to build a national youth mental health infrastructure and describe the need for building national research-based, coordinated mental health systems of care.
"There are no definite numbers indicating the prevalence of mental disorder in the Bahamas, however, based on anecdotal evidence it is fair to say that the rate of mental disorders in the country is comparable to that of international statistics. The WHO (2015) reports that 23 million people worldwide are affected by schizophrenia; 50 million are affected by dementia, and 300 million by depression," he said.
This event is one among many schedule by the centre that will commemorate the World Mental Health Month.