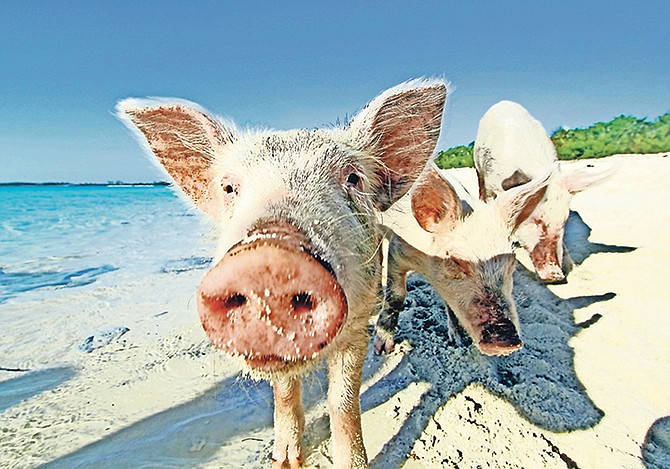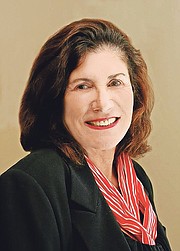 By Diane Phillips
At 3:30 yesterday CNN interviewed a man named Jeff Todd about a phenomenon called swimming pigs. Todd lives in his native Canada these days with his wife and twin daughters. He is in his early 30s, a former Nassau Guardian business editor, AP contributor, prolific journalist, author of three books and, of late, a serial Exuma promoter whose fascination is with the swimming pigs.
That CNN was interested in Todd's book, Pigs in Paradise is not a surprise. The whole world, it seems, is fascinated by the sight of pigs frolicking in the clear turquoise waters of the Exuma seas.
What separated Todd from the other visitors to The Bahamas is recognition of what the represented. Yachtsmen had known about the oddity of pigs on Big Major's Cay in the Exumas for at least two decades. They made it a point to stop by, especially if they had visitors onboard. Some fed the pigs. They took photos of them sharing the water.
But it wasn't until two Canadian-born men with interests in The Bahamas, Peter Nicholson and Jeff Todd, saw the pigs' potential and in doing so changed their lives and The Bahamas' tourism branding around the world.
Nicholson and Todd's discovery came as lots of things in life do, by a coincidence of accident and being in the right place at the right time and experiencing a light bulb moment.
It was close to five years ago. Nicholson had purchased 31 units at Grand Isle Villas, a luxury resort built and furnished with nearly incomparable amenities, comfort and style. Grand Isle had been caught up in the downfall and bankruptcy of Emerald Bay and through no fault of its own was headed south fast when Nicholson came along and bought units at a price that would have made original developers cringe, but probably salvaged Grand Isle from going under.
He had fallen in love with the property and knew it would return to the eminence it deserved when the economic earthquake settled down if only someone cared and poured love and energy into it, preserving the value for other owners who feared what would happen to their vacation homes in the 78-unit complex down the beach from the then-shuttered Four Seasons.
By this time, Todd had left the Nassau Guardian, returned to Canada to complete his first non-fiction book, and was working for Nicholson as director of communications in Nicholson's Ottowa-based financial services company. Todd had never heard of the pigs - despite the fact he had spent years in The Bahamas working at the Guardian. They just weren't that popular, yet. During a Canadian blizzard in the winter of 2014, at Nicholson's Ottawa office, he told Todd about some VIPs visiting Grand Isle in the coming days, and how "they should at some point see the pigs". Todd did a double take. And he decided to go see them for himself.

Todd had an instant ah-ha moment. Nicholson agreed to foot the bill for a documentary. Todd called on a Bahamian living in Florida named Charlie Smith who had a production company. Smith, known for his ahead-of-its-time show on ZNS called Electric Air, came home to shoot. The film premiered at the Bahamas International Film Festival in December 2014, and went on the film fest circuit in the US. A preview of the video went viral online and by last year had been viewed more than one million times.
You can argue the discovery of the pigs, transported to the island by residents of a nearby island who chose Big Major's because of its fresh water source, was only a matter of time. Donkeys don't fly and pigs don't swim. They may wallow in mud, but swim in the sea? As likely as unicorns in mermaid footwear.
It turned out the golden goose of tourism wasn't a goose at all, but a pig. A whole passel of pigs living on an island like Robinson Crusoe, lounging on their beach, cooling off in the gin-clear waters and chillin' their days away until their peaceful piece of paradise was discovered. True, there were disappearances when the actual pig owners from a nearby island would come to round one up and take it to slaughter to transform the swimming phenomenon into bacon or sausage or chops. It would not be long till another was born to replace the absent hog, though. The population kept growing, self-renewing its numbers.
Once the video was released and more visitors flocked to Exuma and posted their own videos, social media went crazy. Today, the pigs are no longer a food source, but a major industry.Young and old made their way from distant corners of the globe. On a recent trip to nearby Staniel Cay when my husband and I were invited to the pre-launch of the book and the unveiling of a new video, we found ourselves in a van with eight others. Only two spoke English. Language did not matter. They had come from Brazil, Chile, Venezuela and Germany to swim with the pigs. We had only come from Nassau and we could not figure out why all the fuss.
Jeff Todd's book is thoughtful. It explores our relationship with animals in general, including those we treasure before we devour. It includes interviews with psychologists, animal behaviour experts and local residents. Whatever the text, the context is the overriding reality that the discovery of the potential of the pigs changed tourism in The Bahamas. It secured Exuma's place as top dog in bucket lists around the world. It created tour operator businesses that do nothing but transport pig peepers to what was once a remote island, now all but overwhelmed with camera-carrying, video-toting dreamers who want to say they, too, swam with the pigs and can prove it.
What it should teach us, too, and this may be the most important lesson of all, is that tourism is changing. The visitor of yesterday whom we hoped would spend generously on luxury goods is not the visitor of today. Yes, there are those who still want a Rolex or a rare conch pearl and the luxury shops of Bay Street continue to satisfy their exquisite taste. But for the most part, today's traveller wants experiences. That is particularly the case for the millennial. It is something the cruise industry recognises better than any other sector.
Sir Sol Kerzner, a true visionary, understood it in the early 1990s when he created the water parks of Atlantis. Gordon 'Butch' Stewart understands it totally. It is why he has never wavered from his formula making romance, luxury, beach and water the basic ingredients in his recipe for success for every Sandals. It's why Sandals and Stewart walked away with the equivalent of the Oscar in the global travel industry awards ceremony last week.
Experiences, not things, lure visitors the first time and a desire for a positive experience can make them sing once is not enough. The one thing people cannot get online is experience.
Sometimes, it takes vision to create success. Sometimes, success is right in front of our eyes and it just takes vision to see it.