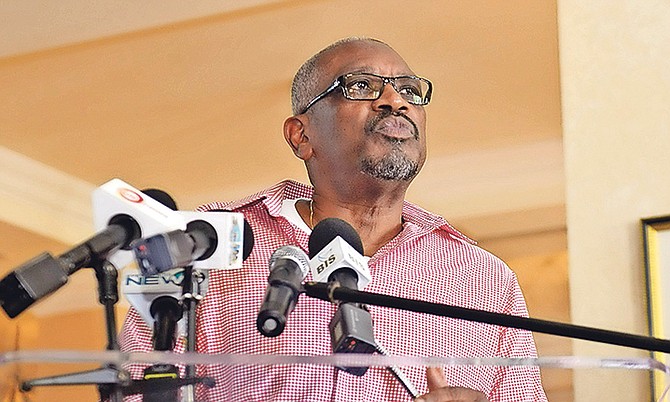 By KHRISNA RUSSELL
Deputy Chief Reporter
krussell@tribunemedia.net
WHILE still not providing any details as to the cost of his recent trip to the United Nations' 73rd General Assembly, Prime Minister Dr Hubert Minnis tabled in Parliament a list of 17 officials, including his wife, Patricia, who made the trip to New York.
Asked yesterday to reveal the cost of this trip, Dr Minnis said his international travel budget is published within the annual budget released every June.
The group also included Foreign Affairs Minister Darren Henfield, Transport Minister Renward Wells, State Grand Bahama Minister Kwasi Thompson and his wife, Tamicka, and Parks and Public Beaches Authority chairman Shanendon Cartwright.
Bahamas Maritime Authority chairwoman Denise Lewis Johnson, Viana Gardiner, chief operating officer of the Prime Minister's Delivery Unit, senior policy advisor Joshua Sears and deputy permanent secretary in the Ministry of Foreign Affairs Eugene Newry also attended.
Additionally, both Dr Minnis' personal assistants - Yontalay Bowe and Katherine Stewart Marche - travelled along with two of his police aides, an aide to Mrs Minnis and a reporter and cameraman from the Broadcasting Corporation of The Bahamas.
The delegation left Nassau on September 23 and returned on September 29.
Dr Minnis also told parliamentarians yesterday that moving forward and for the sake of succession planning, one backbencher would attend every international trip.
"Due to conflicts in my schedule, member of Parliament for St Barnabas Shanendon Cartwright participated on my behalf and gave remarks with regards to non-communicable diseases," Dr Minnis explained yesterday.
"…There were other meetings which required the attendance of the minister of foreign affairs, officials of the Ministry of Foreign Affairs and the permanent mission of the Bahamas to the United Nations, the minister of transport and local government and the minister of state in the Office of the Prime Minister in Grand Bahama."
He also said: "The Bahamas has one of the world's fastest growing ship registries with more than 1,570 vessels, placing the Bahamas within the top ten of the world's flag states.
"The Bahamas is a member of the International Maritime Organisation and is a member of the Council of the International Maritime Organisation, Category C, for which we are seeking re-election.
"The Bahamas Maritime Authority hosted several events and participated in bilateral meetings with other countries to promote our maritime interests and our re-election bid.
"The presence of the minister of transport was important in achieving these objectives."
Dr Minnis said he also used the occasion to engage in investment promotion with particular regard to interest in Grand Bahama in the technology sector. In this regard, Mr Thompson hosted several important meetings and made meaningful contacts, which are expected to be pursued in the weeks to come, the prime minister said.
Critics, including FNM Pineridge MP Frederick McAlpine, have said the prime minister's delegation was bloated, containing unnecessary personnel.
In response on Monday, Mr Wells defended the size of the delegation emphasising that "every Christ soul" that attended had a "function and duty".