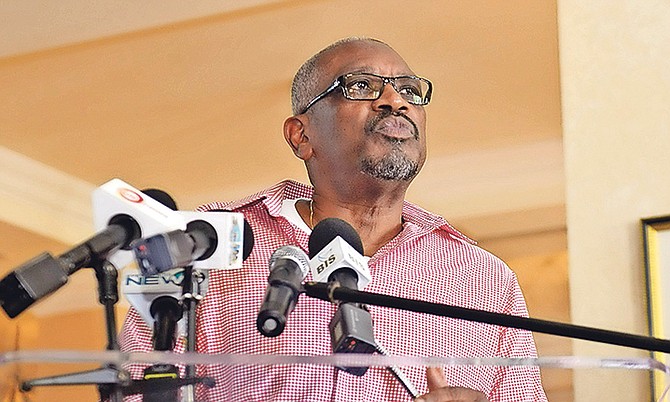 Prime Minister Dr Hubert Minnis.
Photo: Shawn Hanna/Tribune staff
Stories this photo appears in:

DONORS pledged $1.5bn in funding and in-kind services for Hurricane Dorian recovery during a conference at Baha Mar yesterday. The event attracted more than 300 local and international delegates.

PRIME Minister Dr Hubert Minnis revealed that of the 20 investor groups interested in purchasing the Grand Lucayan resort, there are seven serious contenders the government is looking at closely.

LIGHTHOUSE Point has been at the epicentre of intense debate over the past few months. And the government's approval of Disney's proposal to invest $400m into yet another cruise port is both the culmination of an emotionally-charged campaign and, perhaps, the proverbial straw that broke the camel's back.

In recent weeks American media outlets exhaustively covered the US senate confirmation hearing of Judge Brett Kavanaugh. Allegations of sexual assault that took place more than 30 years ago came to the forefront and led to mass protests throughout the hearing, as many people believe he is not fitting for the office of the US Supreme Court Justice.

WHILE still not providing any details as to the cost of his recent trip to the United Nations' 73rd General Assembly, Prime Minister Dr Hubert Minnis tabled in Parliament a list of 17 officials, including his wife, Patricia, who made the trip to New

HEAVY hearts laden the country in the wake of the murder of Police Inspector Carlis Blatch, Aide-de-Camp of Governor General Dame Marguerite Pindling. When the carnage in the country is localised to a bloodthirsty criminal element fixated on slaughtering each other in the streets, we simply pray not to get caught in the crossfire. However, when an innocent civilian is preyed upon, the reality that any of us can be snuffed out any time becomes a chilling revelation. It is much more alarming when it happens to a member of society whose sworn duty is to protect and serve.