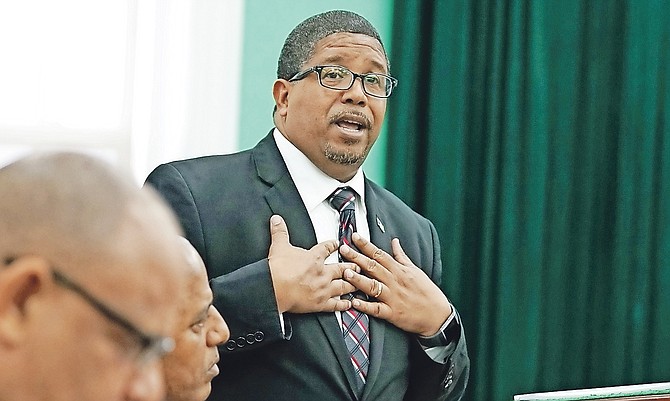 By RASHAD ROLLE
Tribune Staff Reporter
rrolle@tribunemedia.net
AS he made an impassioned plea for Bahamians to take care of their financial obligations, Deputy Prime Minister and Minister of Finance Peter Turnquest said the Bahamas Mortgage Corporation is "insolvent" if it were not for the government's guarantee of its debt, with 47 percent of its loans in arrears.
He was speaking in the House of Assembly yesterday during debate on a resolution to acquire a tract of land that would facilitate the relocation of the BMC.
The debate came against the backdrop of the BMC's recent repossession of homes of people who have accumulated arrears for a number of years, a move the Progressive Liberal Party has condemned as "cruel".
The number of loans being repaid right now to the BMC is 2889, 1366 of which are in arrears.
The value of the loans in arrears is more than $34m.
Mr Turnquest said the BMC is currently owed $194,246,667.
Meanwhile, it owes $395,026,146 to bondholders, including interest.
"When you say leave them in the house you have to understand that the loan is not going anywhere," he said.
"That money is still going to be owed to these bondholders and at some point in 2018 we're going to have to pay or the Bahamas Mortgage Corporation is going to have to pay and they don't have the money. I'm sure the minister will tell you right now, they don't have it."
"The Bahamas Mortgage Corporation owes $162m and it has receivables out there of about $194m, not including the interest. In any other world, I'll try to be careful with my words but there are no delicate ways to say it, that institution is probably insolvent, it is not a going concern. It only can operate the way it's operating because the people of the Bahamas has guaranteed it. How do we stand here and say 'man give them another year, you being cruel' but at the same time say 'you raise VAT to 12 percent, you killing the people.' Where you think this money comes from? You think it just grows on tree?"
Opposition leader Philip "Brave" Davis noted during his speech that some people with arrears have fallen on hard times. Acknowledging this, Mr Turnquest said this does not absolve people of their responsibility to talk to their lenders about the financial difficulties.
"It is true to say some people have a change in circumstances," he said. "It has happened to many, many Bahamians: death, loss of a job, divorce. Those persons who were honest about their intent, those who had a genuine wish to be upfront and to meet their commitment would've come into the Mortgage Corporation and they would've made arrangements for whatever circumstance that exists. What happens is, unfortunately, Bahamians when they get into trouble and they can't pay for their mortgage or whatever the commitment is and the bank or the lending institution starts calling, they start ducking. They figure if I don't talk to them, they don't come to me, they don't find me, they'll eventually give up. I say to all Bahamians today, if you are in financial crisis or can see you will be in financial crises, go and see your lender. And the best time to see them is before there is a financial crisis because you have some workable situations. Ain't no pride in this because ain't nothing worse than saying to the family we gon' lose our house because I ain't pay my bill."
"The minister for health spoke about the fact that the sinking fund that is supposed to fund the repayments of these loans has not been made, has not been consistent. In fact they've been raiding the fund, taking money out which is a big no, no. I don't know how you do that but they been doing it. So the money doesn't exist; $8m we will have to pay this year. Next year is $6m. Year after $6m; year after another $6m; year after another $6m. 2023 it's $25.8m in the one year. That's what we talking about. You can't kick this can because it's $395m. How far you gon' kick that can? You gon' hurt your toe because it ain' gon' move. It ain' going nowhere. What we saying to the Bahamian people in this regard is this is a shared responsibility. We understand life events happen. But you got to do your part and a lot of people don't understand that and a lot of us because of expediency, because it is easy to say, don't worry about it; we got you for another six months, which turns into a year, which turns into another six years, which turns into 15 years. Meanwhile, clock ticking. This is not about being cruel, not about being irresponsible, not about being insensitive with the Bahamian people and those who are affected. This is about the shared responsibility and shared partnership between borrower and lender and each of us doing what we are obligated to do when we freely entered into this agreement."
The BMC's main bondholder is the National Insurance Board. Bahamian commercial banks, insurance companies, pension funds and other investors hold its bonds as well.