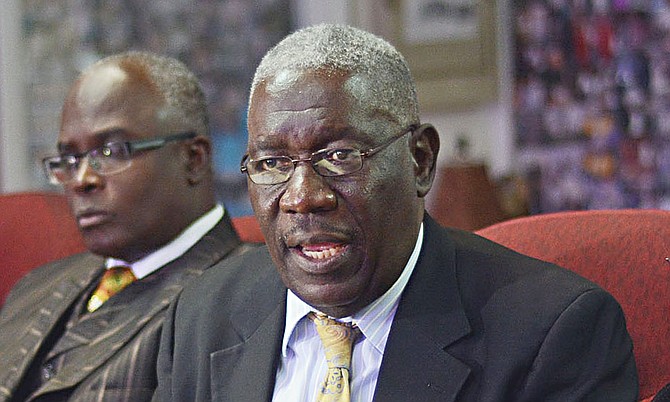 By KHRISNA RUSSELL
Deputy Chief Reporter 
krussell@tribunemedia.net
THE government has chosen two co-chairmen for its cannabis committee, which Health Minister Dr Duane Sands said he hopes will be fully constituted within the next week or two.
Bishop Simeon Hall and former Deputy Commissioner of Police Quinn McCartney have been appointed to head the committee and they will first consider CARICOM's report released earlier this year calling for an end to prohibition against marijuana.
As there is tremendous pressure when it comes to decriminalising marijuana use, Dr Sands said it is important the committee is constituted properly.
"In the first instance they are going to be considering the CARICOM document which forms the basis for recommendations for policy change and then making recommendations about the approach that arises from that document from the Bahamas and kinda create a framework for how we proceed," Dr Sands told The Tribune yesterday.
"I guess I'd like to get this done fairly quickly within the next week or two to have the committee formed and they would then have to meet and form their deliberations.
"There is a tremendous amount of pressure being put on this promise of marijuana. You have heard all the comments and the idea that this is going to be a boom for the economy but there is no guarantee that it will.
"I think we have to ensure that we take an holistic approach in the interest of the country and not just in the interest of the private sector and not just in the interest of persons who a particular proclivity."
He continued: "I have to be very very mindful that this is not about me and my views. I am a representative of the government of the Bahamas and as such we have to be guided by trying to achieve as best as possible a consensus view and there will be some people who believe that we're not aggressive enough and there are some who believe we are too aggressive.
"Again my personal view, I would legalise it, but my personal view is unimportant here, consensus is consensus."
This comes several weeks after Cabinet was said to have been discussing CARICOM's report.
According to Jamaican news agency the Gleaner in July, the Regional Marijuana Commission (RMC) report argues that a strictly regulated framework for marijuana, akin to that for alcohol and tobacco, should be introduced.
It said there was a unanimous view that the current classification for cannabis/marijuana as a dangerous drug with no value or narcotic should be changed to a classification of legal cannabis as a "controlled" substance.
The RMC was asked by CARICOM in 2014 to fully ventilate the social, economic, health and legal issues surrounding marijuana use in the Caribbean.
Its mandate was to determine whether the plant should be reclassified, and under what legal and administrative conditions.
According to the Gleaner, there was also unanimity on the need to ensure protections for children and young persons against possible adverse effects of cannabis.
The commission reportedly advised that prohibition for children and young persons should be maintained, except for medical reasons, and called for the utilisation of treatment and diversion programmes for youth users instead of prosecution.
The report stated, according to the Gleaner, that legislation is needed to ensure unhindered access to cannabis/marijuana for scientific and medical research by approved institutions and researchers.
The commission also recommended marijuana smoking and other uses should be banned in all public spaces.