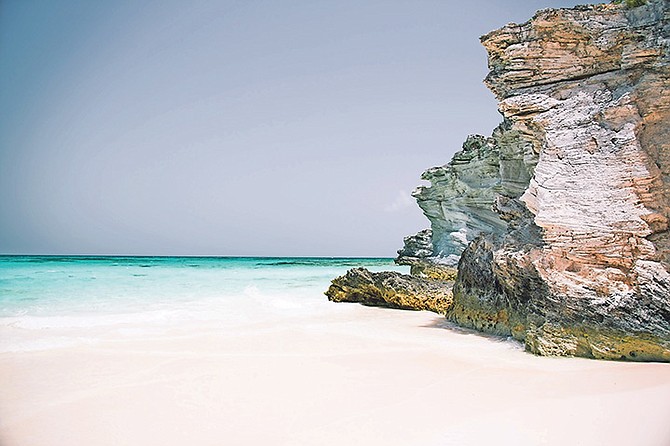 By NEIL HARTNELL
Tribune Business Editor
nhartnell@tribunemedia.net
The "largest investment in South Eleuthera for generations" could give The Bahamas a chance to "rewrite an outdated 20 year-old cruise model", a prominent businessman believes.
Thomas Sands, emphasising that he was speaking as a private citizen, and not as the Eleuthera Chamber of Commerce's president, told Tribune Business that "balance" was required in the debate over Disney Cruise Line's planned acquisition of the 700-acre Lighthouse Point property.
Arguing that neither the project's advocates or opponents had been totally accurate with their information to-date, Mr Sands said the long-term, sustainable economic development that South Eleuthera craves must be matched with environmental preservation.
He added that despite multiple Bahamian efforts to revive the area's economy, it had to be acknowledged that it had "been in recession close to 25 years" and "will remain a desert" - with persons continuing to leave south Eleuthera in search of opportunities elsewhere - unless substantial investment capital was injected into the island.
Mr Sands said Disney Cruise Line's planned $350-$400m spend at Lighthouse Point, of which around half will be spent on the cruise ship dock and pier, represented the greatest single investment promised for south Eleuthera since Arthur Vining Davis and airline pioneer, Juan Trippe, were active between the 1940s-1970s.
Calling on the Government to establish clearly-defined "rules of the game" to encourage both Bahamian and international investors, the businessman said Disney's pledge of continued full Bahamian access to Lighthouse Point - even after its purchase - represents a potential game changer in securing a "mutually beneficial" cruise tourism model for this nation.
"Therein is the opportunity for The Bahamas government and people to rewrite the cruise model and how it can be more impactful," Mr Sands told Tribune Business of Disney's plans. "The current model was worked out 20 years ago in a different time and place.
"It's time to tweak the game so it's mutually beneficial for the cruise lines and the Bahamian people and places, communities they're established in. The Bahamas Government also has an obligation to put back into these communities the revenue collected from the cruise lines. Monies are being collected, going into the public purse, and not filtering back to these islands. Communities must also be creative, and engage with investors and developers to create attractive experiences."
Disney's pledges of a minimally invasive environmental footprint at Lighthouse Point, with its beach break destination taking up just 20 percent of the property, suggest it intends to break with the typical "private island" model employed by the cruise ship industry in The Bahamas.
Many Bahamians perceive these assets as "exclusive" locations that generate little to no economic benefits for themselves or the country-at-large, with the majority of earnings retained by the cruise lines.
Yet Disney, if it remains true to its word, is promising that Bahamians will still have full access to the entire 700-acre property at south Eleuthera's tip, representing one of the most stunning and beautiful landscapes in The Bahamas. The cruise line also said there will be no restrictions on passengers leaving the Lighthouse Point property for tours and excursions, while it receives no rebates on departure taxes paid to the Government.
"At the end of the day, the Bahamas Government will make the final decision," Mr Sands added of Disney's proposal. "I expect that decision to be factual and non-emotional, and for them to have weighed all the facts.
"In this process I've found the information being shared to not be 100 percent accurate at times. It's very important that the information being shared by both parties is accurate; it is verifiable, so persons can take the information provided one way or the other and give advice to their MP as the Government considers the way forward."
Disney's plans have effectively split south Eleuthera in two, with an equal number of residents in favour of, or opposed to, the project. The One Eleuthera Foundation (OEF), a non-profit organisation, has promised to raise sufficient financing to enable the Government to acquire Lighthouse Point in the public interest, arguing it wants to retain 100 percent of the land and profits for the benefit of Bahamians.
But, whatever the outcome, Mr Sands said south Eleuthera's economic plight cannot be ignored. "Given the amount of capital investment mentioned by Disney, this will be the single largest capital investment in any development known to south Eleuthera, going back to the 1950s when Juan Tripp and Arthur Davis were the investors," Mr Sands told Tribune Business.
"For a couple of generations, this will be the single biggest planned investment we'd have known. South Eleuthera has its challenges. Its economy has been challenged, and has been in recession for close to 25 years.
"While efforts have been made by multiple parties to move forward, and positive things are happening on the ground, the reality today is people are leaving the island and businesses are closing. There must be some sort of relief, otherwise we will remain a desert."
Mr Sands said economic development must be "financially sustainable and economically beneficial long-term to Eleuthera's people and The Bahamas as a whole, but not at the expense of the environment.
"We want to see sustainable economic development take place throughout Eleuthera and south Eleuthera," he added. "At the same time, we must remember the environment we live in is beautiful.
"There must be balance in this discussion. So many of us have invested time, energy and resources in south Eleuthera, and we're here for the long-term. Any partner has to be significant, not only in investment but with the community as a whole long-term."
Mr Sands warned that The Bahamas will "discourage investment", both local and foreign, without clear rules and guidelines as to what they can and cannot do. "The rules of the game need to be established, and we need to move forward," he said.