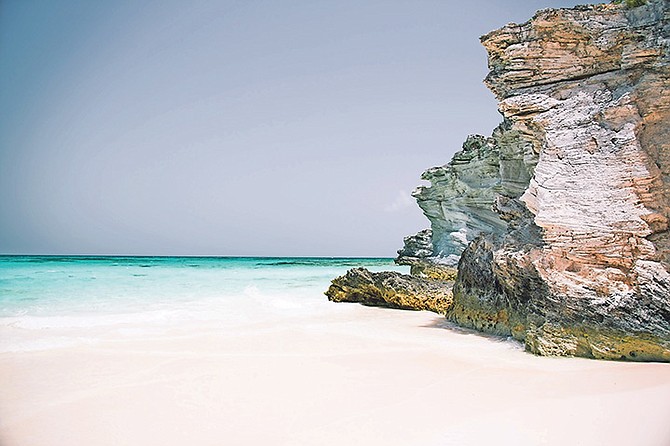 The view at Lighthouse Point. Photo: Barefoot Marketing

Stories this photo appears in:

WHILE the final Environmental Impact Assessment (EIA) for Disney Cruise Line's proposed Lighthouse Point project has yet to be completed, Minister of Environment Romi Ferreira on Friday vowed that this information will be made public as soon as it is received by the government.

ENVIRONMENTALISTS are calling for "better national planning" in terms of economic and environmental sustainability in the wake of the Minnis administration's decision to approve Disney Cruise Line's proposal for Lighthouse Point, South Eleuthera. 

Three days. That's how old I was when I first became a part of Eleuthera, after my mum and I were discharged from PMH. I was raised on Eleuthera until the early 1980s when, like so many Eleutheran families, the financial and educational realities forced my family to move to Nassau. I was lucky with scholarships and received a graduate degree with a focus on economics. I returned home to Eleuthera to get married and we take our children there at every possible opportunity.

Disney's Lighthouse Point rival says the difference between their respective projects' economic impact is "like night and day", despite push back from the cruise line's supporters.Members of the Lighthouse Point Partners consortium told Tribune Busin

PUBLIC Domain president M'wale Rahming yesterday defended the organisation's most recent survey against critiques the poll commissioned by Disney Cruise Lines was biased. On Monday, Public Domain released a survey which found that more than 60 perce

DISNEY Cruise Lines has already "won out" in its bid to gain the support of residents in Eleuthera, according to representatives from the Community Support Group (CSG).The organisation, whose members include the wife of Central and South Eleuthera MP

The "largest investment in South Eleuthera for generations" could give The Bahamas a chance to "rewrite an outdated 20 year-old cruise model", a prominent businessman believes.Thomas Sands, emphasising that he was speaking as a private citizen, and n

THE One Eleuthera Foundation has not made a substantial offer to buy Lighthouse Point since 2009, according to the group's CEO Shaun Ingraham.In an interview with The Tribune yesterday, Mr Ingraham said while a second offer never really materialised,

PRIME Minister Dr Hubert Minnis suggested on Saturday he will hold town hall meetings with residents of Eleuthera to discuss Disney Cruise Line's proposed development of a destination at Lighthouse Point.The development is being opposed by environmen

One Eleuthera Foundation (OEF) CEO Shaun Ingraham characterised Disney's proposal for Lighthouse Point as "killing the golden goose" as he defended the non-governmental organisation's proposal for "responsible development". Mr Ingraham insisted the "

JOB creation will be the determining factor in the fight over the development of Lighthouse Point, according to one resident in Central and South Eleuthera.

THE Bahamas National Trust and One Eleuthera Foundation are warning that although Disney Cruise Lines has said it has no immediate plans to block local access to the Lighthouse Point beach, "experience has taught" that such plans can be changed as de