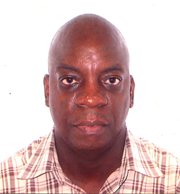 By BRENT STUBBS
bstubbs@tribunemedia.net
SO it's shaping up to be a battle between two incumbents as the Bahamas Association of Athletic Associations gets ready for its election of officers.
So far, Rosamunde Carey has logged her intentions of pursuing her second term in office as the first female president. This time around, she is expected to be challenged by Drumeco Archer, who served in her administration as the secretary general.
The elections is scheduled for November 24, one day after the BAAA holds its annual general meeting on November 23, all at the Thomas A Robinson National Stadium.
What's interesting to note is that there will be some officers, who served during the past term in 2015, who will not be seeking their positions. And there are one or two candidates who served under this administration who have joined forces with Archer in their bid to oust Carey from office.
In grand style at the stadium, which included a junkanoo rush-out and a meet-the-candidates luncheon, Carey introduced her 'Bonafide Innovators' team of candidates that includes Carl Oliver (1st Vice President), Sandra Laing (2nd Vice President), Gail Clarke (Vice President - Finance), Philip Gray (Vice President - Marketing and Public Relations), Cedricka Rolle (Vice President - Business Operations) and Patrick Adderley (Vice President - Technical Operations).
Without any of the fanfare, Archer quietly announced his intention of running and he will be joined by his slate that includes Grand Bahamian Ravanno Ferguson as first vice president, Rupert Gardiner, second vice president, Sharon Gardiner, vice president of Finance and Marketing, Dawn Johnson, VP of Business Operations and Frank 'Pancho' Rahming, VP of Technical Operations.
It's expected that his slate will be officially revealed to the public on Wednesday, October 24.
In the meantime, what's interesting to note is that with the change in the formation of the executive team, first vice president Tonique Williams won't be seeking another term in office for whatever reason.
Nor will Mabeline Miller, the assistant secretary.
Miller beat out Williams 9-8 in a keenly contested vote for the post of the interim chief executive officer. It's one of the new positions that the BAAA will be governed by following the elections next month.
Depending on who is elected to office, Miller hopes to continue in that position. In the meantime, she will have the responsibility of overseeing the election process.
While it's understood that the elections will continue as they have in the past, I'd like to recommend that the BAAA place all candidates, regardless of which slate they are on, on one ballot sheet side by side of their opponents and have the delegates vote for everybody at one time.
One of the norms during elections for sports in the Bahamas is generally when the president is elected, just about all of their candidates go in, sometimes unopposed.
In most cases, persons are elected based on popularity rather than their ability to carry out their mandate.
It's a known fact that some persons only accept a nomination because they believe in the philosophy or the ability of the person who they are running with as the leader.
But I believe that once you have committed yourself to service, you should be willing to adjust and work with whoever is in office. In that way, I think the organisation will be better served with an executive board that is willing and able to put their differences aside and work for the common good, which is to enhance the sport and its members. If you're not willing to compromise, then you shouldn't run for office in the first place.
Too often we have seen a lot of tension develop as a result of a slate of officers elected over a slate that wasn't. The entire term in office is spent trying to extend the olive branch to those persons who feel like they have been ostracised and, in most cases, there's no synergy within the organisation.
The BAAA and presence of the Bahamas on the international scene is to have this kind of diversification. Hopefully after November 24, whoever is elected, the BAAA will get to function as effectively with everybody working for the common good, rather than trying to tear each other apart.
Congrats to
Fox Hill Heroes
On Monday, the Fox Hill Old Scholars Association hosted their 8th annual Hero's Awards at St Paul's Baptist Church, Fox Hill.
Among this year's honourees were Albert Alexander Rolle, a former outstanding bowler at the Village Bowling Lanes, and Harold 'Banker' Fritzgerald, who played softball for more than 50 years.
It was so good to see two outstanding gentlemen honoured, not just as exemplary residents of the community and faithful church members, but outstanding sportsmen outside of the area.
It was a recognition that they both deserved along with the other honourees.