By NATARIO McKENZIE
Tribune Business Reporter
nmckenzie@tribunemedia.net
THE Government will forego $40m in revenue under its first World Trade Organisation (WTO) offer, its chief negotiator suggesting that accession will impact just 20 percent of the economy.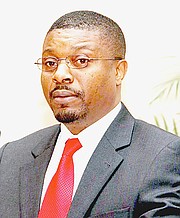 Zhivargo Laing, pictured, a former minister of state for finance, told a WTO symposium at the University of The Bahamas: "The WTO for me and our negotiators is a 20 percent conversation basically. Seventy percent of the Bahamian economy is essentially already free trading and in compliance with the WTO. I don't have to discuss that with anybody at the WTO. I'm not breaking any rules."
He added that roughly 85 percent of this nation's trade in services, rather than goods, and said the $40m in government revenue lost by eliminating or reducing import tariffs could easily be made up by cutting investment incentives by ten percent.
"Ninety-eight percent of the goods or products we import and export in this economy have nothing to do with protective tariffs," Mr Laing said. "Basically, when I go to the WTO to negotiate, this little slice, or two percent in terms of goods, is all the headache I have.
"The rest of it, the 98 per cent, is only a headache to the Government because it would have to lower duties on these items. The Government lowering duty is a headache for the Government because it would have to find the revenue to replace the revenue that this represents."
Mr Laing added that 72 per cent of this nation's services trade was already free. "Twenty-eight per cent is the headache; 15 areas that we have reserved for Bahamians, where we say foreigners can not participate in," he added.
"These areas include wholesale/retail trade, real estate, construction, legal services, import/export agencies etc. As we do the negotiations we have four areas, in particular, of ways to trade that we can offer for liberalisation." These, he said, include cross-border trade, commercial presence and the presence of natural persons.
Mr Laing again emphasised that the WTO is not about the free movement of people, and argued that full membership does will not lead to an erosion of Bahamian sovereignty. "If that were true, what are 164 countries doing in it including the US, China, Cuba and Germany? Why are 22 other countries still trying to join it. We can join it and leave when we want to," said Mr Laing.
"A part of this effort in joining the WTO is a strategic effort to grow and develop the Bahamian economy. A WTO environment will mean for many Bahamian businesses a reduction in their upfront costs. With WTO bringing down the tariff rate, it means businesses don't have to pay thousands of dollars in tariffs at the border.
"In our context, if we successfully do what we are trying to do, the winner will be the Bahamian consumer because they will get cost savings over the short to long-term; Bahamian workers, because there will be job creation over the medium to long-term; and Bahamian entrepreneurs because they will have increased market access, freed up capital and improved terms of trade over the medium to long-term. The Bahamian government also benefits because an expanding economy means more buoyant circumstances to raise revenue."