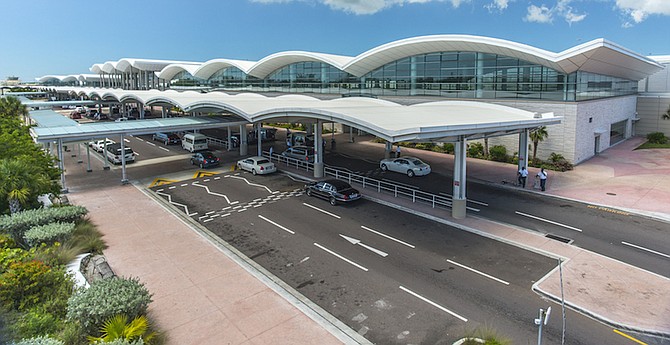 By RICARDO WELLS
Tribune Staff Reporter
rwells@tribunemedia.net
FLIGHTS in and out of Lynden Pindling International Airport were grounded Sunday after air traffic controllers were forced out of their tower by a malfunctioning air conditioning unit.
Two flights were ultimately rerouted to Florida, due to the stoppage.
Tourism and Aviation Minister Dionisio D'Aguilar on Sunday confirmed that operations were suspended around 10.30am after conditions in the tower became "unbearable."
He said the issue with the A/C unit came as a result of "spikes in voltage" at the airport, which, he said, had been happening for the last few days.
"For the last couple of days, I'm not sure the exact length of time, there have been some spikes in the voltage at the airport and in the last day or so, it has resulted in some further issues," Mr D'Aguilar told The Tribune.
"The air-conditioner in the tower failed at some point last evening (Saturday). Obviously, today being quite a long day, attempts were made to get a contractor out to see if the system could be mobilised. The attempt, it being Sunday and all, was unsuccessful," he added.
Mr D'Aguilar said officials were, however, able to lean on technicians from the Nassau Airport Development Company (NAD), who were already at the facility, working on issues in the terminals.
Those technicians, according to Mr D'Aguilar, were able to address the problem and the facility was re-opened in just over 30 minutes.
"As we speak, the tower is back open and flights will be able to resume their schedules in a bit; I estimate (around noon)," he said.
"We just need to clear the backlog, and we will have planes back in route as soon as we get that done."
Meanwhile, Keith Major, representative from the Bahamas Civil Aviation Authority, confirmed that as a part of the stoppage just two flights had to be rerouted to Fort Lauderdale Hollywood International Airport.
He told The Tribune that by 11am local time, services resumed for all arrivals en route to LPIA.
Subsequently, at 11.35am, LPIA had returned to its full operation schedule.
"There were some minor setbacks, but once we got everyone back on board, things quickly returned to normal," he said.