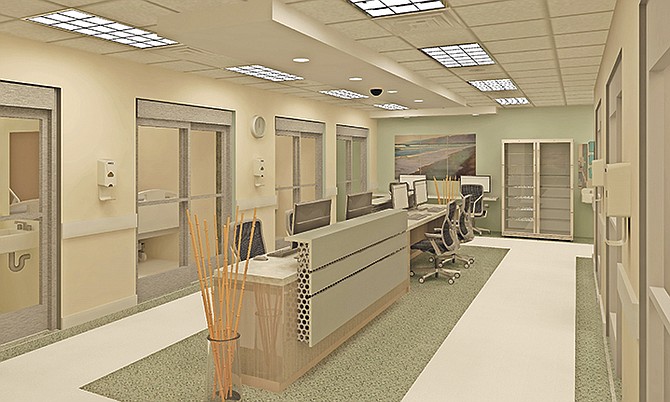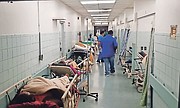 By AVA TURNQUEST
Tribune Chief Reporter
aturnquest@tribunemedia.net
REDEVELOPMENT of emergency services in New Providence are underway, according to Health Minister Dr Duane Sands, who confirmed $5m in upgrades to the Accident and Emergency Department at Princess Margaret Hospital had begun.
Dr Sands said the upgrade will affect a 50 percent increase in square footage allocated for the department.
"We've been talking about the challenges at PMH and A&E," he said, "if you look at some of the numbers, in just four years A&E has managed almost 8,000 assaults, 1,300 stabbings, it has outgrown the current footprint and leaves a lot to be desired.
"We're now ready to move forward with that project, and it ties in nicely with redevelopment of the imaging department. We now have a brand-new X-ray department, and by November 1 we will have completed preparations for a new CAT scan as well.
"The next step is the renovation of A&E, not just the physical plant but the staff, service and perception. A lot of people say fix it and we're fixing it. We budgeted for it, we would have put that in 2018/2109 budget. Also in that budget was money for the urgent care development at Elizabeth Estates and South Beach clinics."
Dr Sands said architectural and engineering plans were underway for those clinics, with construction likely to start for Elizabeth Estates first once the project had gone out to tender.
"We had to have a plan," he added, "a part of the plan is to control the haemorrhage, to cut any waste, and augment revenue, to find out ways to capture revenue that does not put the burden on the most vulnerable, and then the service."
Meanwhile, the Public Hospitals Authority announced that 20 employees have started advanced training in medical coding and billing through an on-going partnership between the PHA and Healthcare Associates Training & Temp Centre.
The second phase of the programme, which began in September, will run for 12 months and result in successful participants being certified through the American Academy of Professional Coders, the PHA noted in a statement.
"Coding of medical records is critical for generating information for hospitals, and more importantly, national statistics for local and international reporting," PHA noted. "The absence of coded health records significantly hampers the PHA's ability to obtain information for strategic planning and reporting purposes; and it constrains revenue collection which would be used to maintain and upgrade existing hospital services as required.
"Earlier this year 35 employees from the Princess Margaret Hospital and Sandilands Rehabilitation Centre completed ten weeks of introductory training in medical coding and billing principles and practices . . . From that number 20 have been selected for advanced training, reflecting the PHA's commitment to address a longstanding shortfall of medical coders within the country. Prior to the implementation of this initiative there were less than 50 certified medical coders in the entire country, with only two working in the public sector."
Dr Sands first raised concerns over $782 million in unpaid bills on the books at PMH since the late 1980s during his recent budget contribution, along with the limitations of the Billing & Medical Coding Department.
In August, he told The Tribune PMH's Accident and Emergency Department collected less than $200,000 in revenue for services provided in 2017, adding the figure amounted to an average bill of just $3 per patient.
At the time, he also confirmed PHA's antiquated billing system could not track medical charges in real time, and was entirely dependent on manual records - an environment that has resulted in an estimated loss of $40m in potential insurance claims per year.
In its statement released on Friday, PHA said it anticipates the training will give the organisation the ability to improve capacity for timely and effective patient billing for revenue enhancement and strengthen organisational ability for production of quality clinical and management information.