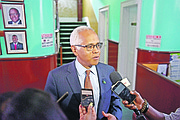 By NATARIO McKENZIE
Tribune Business Reporter
nmckenzie@tribunemedia.net
The Minister of Tourism yesterday revealed the Government could save $12m per year after it completely "scrapped" the tax incentive regime for cruise lines.
Dionisio D'Aguilar, pictured, speaking ahead of a Cabinet meeting, said the departure tax rebates offered to the cruise lines had amounted to roughly $1m per month, even though many cruise passengers never came ashore.
"In the past we used to provide incentives for cruise passengers to come here but, to be honest, we were paying for a lot of people who didn't come off the boat. We scrapped those incentives. We don't have any incentives any more. We are not asking any cruise line to bring any passengers here. They should want to come here," said Mr D'Aguilar.
"There should be something wonderful for them to do here. God has geographically blessed The Bahamas. We are the closest port to the largest cruise ports in the world: Miami, Fort Lauderdale and Canaveral. I don't think there needs to be incentives. This is where people want to come. We just have to make it a wonderful place for them to visit and make it memorable for them to want to come back."
Mr D'Aguilar added that the Government has been pulling back on cruise industry incentives over the years. "I think the incentives we offered amounted to about $12m a year, about $1m a month," he said.
"Over the years, we have sort of done away with most of the cruise incentives; there was one left up to June 30th. We decided to sit back and wait to see if it makes a difference. We will certainly review it, but it is not our intention at this time to offer incentives.
"These cruise lines are very profitable. They make a ton of money. Why are we paying them to bring passengers to our port? We are finding that some of them are not getting off, so why are we giving incentives for people to come to Nassau, sit on the boat, eat their food and not get off?
"It makes sense, if we're going to tie in incentives, it's how many people come off the boat and spend money in our country, and then you get something back. We need to be more focused and targeted in our incentives."
The Bahamas previously gave the cruise industry a rebate on their departure tax payments once they brought an agreed number of passengers to The Bahamas, regardless of whether they stepped off the vessel.
Mr D'Aguilar recently told Tribune Business that the Government is seeking "significant Bahamian ownership" in Nassau's new cruise port operator, which will have "a 25-year concession" to manage, develop and maintain the facility.
Bidders have until Friday, December 7, to submit their offers after the Government on Friday formally launched its search for a Prince George Wharf manager who will act as "a transformative catalyst" to spark downtown Nassau's redevelopment.
"We need to expand our facilities to accommodate additional cruise ships. It's not just getting the bodies here; it's giving them something to spend their money on when they get here. That's the real tough nut to crack," Mr D'Aguilar said yesterday.
"We need to get them off the ship and spend money in our country. We hope that with that development it will expand the number of retail options for them, and the number of food and beverage options. We hope that with this significant investment in the port it will start to move to Bay Street and bring about a transformation in the quality of offerings on Bay Street.
"There is going to be a dedicated management team, focused on recreating, rebranding, upgrading, changing the offerings of the port all the time, in much the same way that has happened at LPIA, something we are all proud of."