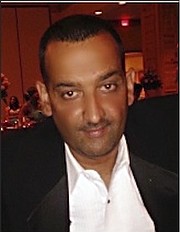 By INIGO 'NAUGHTY' ZENICAZELAYA
This comes a bit late but I guess now is as good a time as any to congratulate the Progressive Liberal Party (PLP) on winning the 2017 Bahamas General Election.
Didn't you hear? Apparently the Free National Movement (FNM) is moving to rent the Town Centre Mall to serve as our General Post Office. And despite public outcry and the very bad political optics of the situation (one of the beneficial owners of the Mall is a sitting Cabinet Minister) the FNM has a really convenient response; the PLP "was gonna" do the same thing.
That's right, our new proxy PLP "Was Gonna" government that calls itself an FNM administration has found a comfortable (if hypocritical) position when pressed on its decision making.
Ask this government a question and predictably the answers are now the same:
Why are you raising VAT on the people? The PLP was gonna do it.
Why are you pushing this ludicrous Oban deal? The PLP was gonna do it.
Why are you looking to rent the Town Centre Mall? The PLP was gonna do it.
This excuse has become so common that if you aren't paying attention you may not notice how regularly it's deployed.
On the Vat question, this "PLP was gonna" excuse was so rampant it forced former Prime Minister Christie to come out of his self-imposed (but much appreciated) exile to protest, "I'm really surprised because we never had any intention of raising it to 12 percent."
On the Oban question, Prime Minister Minnis brought up former Minister for Grand Bahama Michael Darville's tour of the proposed site for the Oban project.
During the hot debate in the House with opposition MP Glenys Hanna-Martin, Doc Minnis actually said, "And yet the member of Parliament for Englerston referred to the principals of Oban Energies LLC as a 'cornucopia of crooks'. Well, these are the same cornucopia of crooks with whom some of her cabinet colleagues, and the PLP government sat down and negotiated.
"Furthermore, one of them visited the site in Grand Bahama (which the nation can see on a video), approved the project, and was about to sign the heads of agreement."
In that same debate – in what can only be called a moment of striking cognitive dissonance (or as the elders would say, "having no shame") - Doc smugly added, "But we are now the government."
Are you really, though?
Because this week we have yet another PLP "was gonna" moment.
In defending this latest controversy around renting a building partially owned by a sitting Cabinet Minister, and other possible Post Office options, the PM has once again fixed his mouth to say, "I don't want to get into details because what's going to happen is more details will come out during the debate, but what you will find out is that at a particular point in time even the PLP had selected the facility and they had also already drawn the plans."
For the uninitiated, that "Doc talk" word salad basically translates to: But..but..but..the PLP was gonna!
The Minister of Immigration, Brent Symonette, told this newspaper he has no knowledge of and was not involved in the Cabinet discussion surrounding the use of his Town Centre Mall property as he is currently "out of the country".
Yet here is poor, poor, pitiful Brent once again caught in another politically devastating controversy involving conflict of interest because his leader, the Prime Minister, is bent on doing everything he thinks the PLP would have done.
To make his case, Doc even gave us this laughable example: "Let me ask you a simple question. If Bill Gates was a Bahamian Microsoft with the best possible computers for your country in terms of e-Bahamas and internet systems, and Bill Gates was also a member of Parliament, would you deny the country the use of Microsoft because he's a member of Parliament when he declares, and you know (he is) the best in taking you to first world status?"
This argument fails on so many levels.
First of all, back in the day, Microsoft was hit with a federal anti-trust lawsuit to stop that kind of monopoly implied. There are several companies that can claim to be 'the best.' (And conflict of interest free, probably).
Second of all, Bill Gates, the second richest man alive, recently turned down a political office because he felt it was "not a good use of [his] time". (Can you blame him?)
Third of all, the Gates' have pledged to give away most of their money in life or in death to charity. Ninety billion. NINETY. BILLION. (Show me a "Bahamian Bill Gates" who will give away ninety thousand and I'll show you a Chickcharney.)
Lastly, your example, for these reasons and for the logical fallacies of appeal to probability, equivocation, false dilemma, etc., etc. is what Bahamians generally call "talking fool".
And yes, it is a serious ting!
The irony of all this madness is this is supposed to be "The People's Time".
Why would the PM keep doing everything "the worst government since Majority Rule" would have done?
Did someone tell him "The People" wanted PLP Lite?
Minnis once said 'out his own mouth' that "The PLP way is for them and them alone. That party has no philosophy or ideology other than this: get the money."
Yet here we find ourselves with the FNM fiendishly "following fashion".
Wake up FNM. Or soon your "was gonna" government is gonna be gone too.
Until next week I will leave you with the words of Edward R Murrow : "A nation of sheep, will beget a government of wolves."