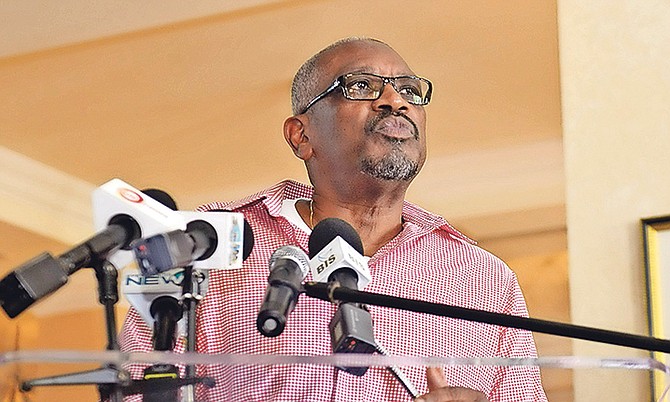 By Malcolm Strachan
LIGHTHOUSE Point has been at the epicentre of intense debate over the past few months. And the government's approval of Disney's proposal to invest $400m into yet another cruise port is both the culmination of an emotionally-charged campaign and, perhaps, the proverbial straw that broke the camel's back.
Educated FNM supporters from the middle to upper-middle class – who were the ones who mainly advocated for the Lighthouse Partners' proposal – had their stomachs turned as they awoke to Friday's headlines being plastered with the demands of Disney's VP of public affairs, Kim Prunty. Only a few hours later, the sickening feeling intensified as the ideal of a Bahamas where it is truly "Bahamians first", as the prime minister recently pontificated, was dealt a massive blow and the citizenry was brought back to reality.
Irrefutably, many among us were insulted as the government bent the knee to Disney and acquiesced to their demands.
It's hard not to feel slighted by the outcome if you recall the prime minister's passionate plea in December 2015, when he outlined his vision for The Bahamas to the Bahamian people. Ironically enough, it was one that foreshadowed the type of development proposed by the Lighthouse Point Partners.
Minnis said: "I envision a Bahamian economy that is progressively stimulated, not just through increased job opportunities, but also through increased Bahamian ownership and entrepreneurship.
"More and more Bahamians must own a piece of this new Bahamas. Therefore, it is incumbent upon us to develop a more empowering economic vision, and shepherd its execution into a reality that Bahamians can capitalise upon and experience. In addition, the systems and institutions which govern our everyday lives must be strategically revamped to be more responsive, results-oriented and underscored by best practices."
In reflecting on the prime minister's words nearly three years ago, one must realise the striking similarities between the vision he shared and what was proposed by the Lighthouse Point Partners. However, it would seem as when it comes to foreign or local, there is an underlying tendency for Bahamian people to frown upon their own in support of foreign interests.
Oddly enough, many supporters of Disney posited that the Lighthouse Point Partners were doing the bidding of the "white boogeyman" – which hardly made an iota of sense if one took the time to review the entity's plan.
Appallingly, a neocolonialist mindset has permeated South Eleuthera and has drawn a divide within that community. It has been terribly unfortunate to see the attacks levied on brothers and sisters for having a difference of opinion. Shamefully, the prime minister, who looked on as this played right before his eyes when he attended the town meeting (Disney pep rally) in Green Castle a few weeks ago – passed up on the opportunity to galvanise a community fractured on a shared hope for its future.
Sadly, this was the same prime minister that said: "We can no longer operate from the perspective that a sound and viable economic development and investment policy is one dominated by foreign interests. A progressive and empowering economic development and investment policy in the new Bahamas will be one that not only welcomes practical foreign investments, but encourages and incentivises full Bahamian participation, partnerships and ownership as well.
"In the new Bahamas, gone will be the days when the wealthy and wealthy companies increase record profits and accumulate wealth with impunity. Also gone are the days when they did so on the backs of the common men and women who remained hopelessly in poverty. The economic playing field must be levelled to ensure that Bahamians with vision, creativity and determination can have full and unfettered access to entrepreneurial and investment opportunities."
At the time, these were considered very powerful words from the prime minister. And while in many other facets he has been a gross disappointment, none may be more regrettable than the lack of creating opportunities for Bahamian people to own their economy.
Rightfully so, many Bahamians have gotten the sense that Disney long had this deal in the bag, and that the prime minister's once profound vision will now continue to drift into a realm of fantasy.
Certainly, jobs will always be a great help for people of a community. However, the model of owning our economy is a feat that Prime Minister Minnis has yet to accomplish. As a leader, he was supposed to be able to see much further beyond the short-sightedness that we tend to experience as a desperate populace.
Though he was elected as the lesser of two evils, nonetheless, he was chosen to shepherd us to greener pastures.
If we're being honest, the Lighthouse Point Partners were proposing exactly the kind of development that Dr Minnis looked towards in December 2015. And perhaps most disheartening, although the Lighthouse Point Partners were able to prove they had the better plan along with financial backing in place, the government's decision does not seem based on merit, but rather in line with tradition.
This tradition is one that has been rejected by many of the citizens that would have voted for the government in the last general election. Many of them feel tricked. Duped.
As constituents across the country have made their feelings known, surely they must be aware the writing is on the wall.
Now, will ministers who entered Parliament claiming to be men of integrity see the time is drawing nigh and begin to promote self-interest as we have seen in former administrations? Certainly, the Bahamian people should be on high alert over the risk of possible graft and theft increasing as a scramble to secure family, friends and lovers in the wake of this decision.
Many of these same men and women may be questioning what they can now get out of it prior to the election in 2022, a year before Disney hires a single soul.
Truly, the Minnis administration may have determined its own political fate by yet another contradiction, as once again, Bahamians do not feel first.