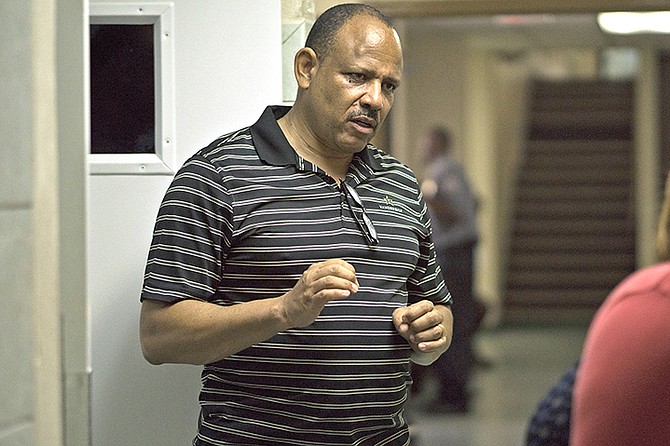 Reader poll
543 total votes.
By NEIL HARTNELL
Tribune Business Editor
nhartnell@tribunemedia.net
The restructured National Health Insurance (NHI) scheme's basic coverage will cost $100m but avoid "creating another bloated government bureaucracy", a Cabinet minister said yesterday.
Dr Duane Sands, minister of health, told Tribune Business that the revised NHI model both eliminates the Christie administration's public insurer, Bahama Care, and any role for the National Insurance Board (NIB) in administering the scheme.
Describing the new structure as a private-public partnership (PPP), Dr Sands said the Government will rely on the private sector to issue policies and operate the scheme under regulatory oversight from the NHI Authority.
He added that the model will relieve the Government from having to invest "tens of millions, if not hundreds of millions, that it doesn't have", while eliminating its "historic challenges" of "inefficiency" and "political interference" in the running of state-owned enterprises (SOEs).
The NHI policy paper, issued yesterday to kick-start a 45-day consultation process, ends the notion that "healthcare is free" by requiring all working Bahamians to contribute two percent of their salary or 50 percent of the premium - whichever is lower - to purchase the scheme's Standard Health Benefit (SHB) or minimum level of coverage.
Unveiling a similar funding mechanism to NIB contributions, the paper says the balance of SHB costs will be met by the employer, meaning the latter "will be responsible for at least 50 percent of the premium cost".
The SHB package's initial "regulated premium cost" is expected to be $1,000 per year, or $83 per month, meaning that employee contributions will be effectively "capped" at $500 per month. Its introduction is currently scheduled to begin in April-July 2019, with the wider NHI scheme phased-in over a period lasting until 2021, and containing various exemptions for specific categories of companies and workers.
Legislation will be passed mandating that employers, and their workers, acquire the SHB package from private insurance companies, although prices (premium costs) will be "limited to a range" set by an unnamed "independent body" and approved by both the minister of health and NHI Authority.
Legal reforms, according to the policy paper, will "guarantee the issuance" of SHB coverage to anyone who applies, meaning that persons with pre-existing illnesses or health conditions cannot be turned away or rejected for medical insurance.
Dr Sands told Tribune Business that the revised NHI model was designed to provide quality healthcare for all Bahamians via a scheme that was financially sustainable, with specific funding sources identified unlike under the Christie administration, which relied solely on the Consolidated Fund and failed to properly allocate the necessary resources from it.
Acknowledging that a contributory NHI will still be "a hard sell", given the need for all employers and workers to help fund it, Dr Sands argued it would enable small and medium-sized businesses to provide coverage for their employees at 20-25 percent of current premium costs.
Pointing out that typical medical insurance premiums range from $4,000-$6,000 per annum, compared to the SHB's $1,000, the Minister said: "I think the way this is done will invite some people that would like to provide health insurance but can't afford it to get into that market to provide some protection for their staff.
"The other way to look at this is an additional cost to doing business. When we look at the studies, healthy employees lead to a more productive business and healthier bottom lines. That's a hard sell, and I expect to get some push back from some employers.
"Some people will say it's untenable, too much and I can't afford it. I don't have a reasonable response. If we believe in Universal Health Coverage (UHC) it comes at a cost."
Dr Sands added that the revised NHI model would "be a game changer" for the Government, and how the trade unions that represent its employees "see their conditions and terms of service, even for those individuals that do not enjoy a major medical insurance plan".
Explaining the shift away from the Christie administration's government-run NHI, the Minister added: "The idea is we want to grow our private sector. Our economy is going to grow on the back of the private sector, not the Government.
"Not to make disparaging comments about NIB, but NIB has demonstrated inefficiency in its ability to deliver benefits without extra administrative costs. They're running at 20-plus percent and ought to be running at 5-6 percent based on other entities."
Dr Sands continued: "Our financial sector has been taking a beating recently, and to now take a scheme that provides equity and parity for public patients, but do it through a PPP where the private sector provides the infrastructure with the ability to bill, code and follow these things, it means the Government doesn't have to invest tens of millions, if not hundreds of millions, which it doesn't have to get this project off the ground.
"It eliminates the historic challenge of government to avoid places of inefficiency. We've seen it with Bank of The Bahamas, the Bahamas Mortgage Corporation and Bahamas Power & Light (BPL).
"If we have the Government acting as regulator and defining what the product is, you're less likely to have political interference that results in an increase in accounts receivables because people are not paying for it, whether it's the Government, employer or employee."
Dr Sands confirmed that the revised NHI structure has no place for the Bahama Care public insurer that the Christie administration planned to create. "The idea of a public insurer falls away," he told Tribune Business.
"We are not interested in there being any public insurer. We'd like to have the public sector, the NHI Authority, to act as the regulator providing oversight, and make sure the private entities do what they are mandated to do.
"If we look at the way automobile insurance is provided, home insurance is provided, that model works wonderfully and the Government gets taxes from it. We don't need to redefine the wheel and create another bloated government bureaucracy."
Dr Sands said the recent exposure of dialysis treatment woes at the Princess Margaret Hospital (PMH) "drives home that the public health system simply does not have the capacity to deal with these issues adequately".
He added that the same concerns applied to heart disease care, while "certain cancers have outstripped the ability of the public sector as they involve therapies we can't provide". All this, Dr Sands said, meant that NHI needed a true partnership with the private sector to provide the quality of healthcare demanded by Bahamians.