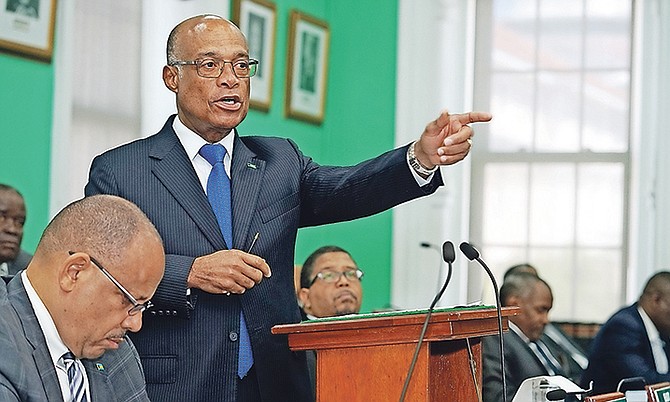 By RICARDO WELLS
Tribune Staff Reporter
rwells@tribunemedia.net
EDUCATION Minister Jeffrey Lloyd has announced that the 2018/2019 academic year will be the last year of unlimited subventions for Bahamian students enrolled in the medical programme at the University of the West Indies.
Addressing the issue in Parliament yesterday, Mr Lloyd said while the government will live up to its obligation to all Bahamian first-year medical students now enrolled at UWI, only students who appear on the school's official enrolment list, which was presented to the government earlier this year, will be considered.
He also made it clear that the service will be capped at 25 scholarships a year moving forward.
According to Mr Lloyd, the decision comes partly due to the fact that the country's healthcare system cannot "efficiently and professionally" support more than 25 scholarships for medical studies at UWI each year. "It cannot. It will not," Mr Lloyd emphasised.
He stressed that at current trends, anything in excess of 25 students a year, would mean that students would work without the benefit of "proper, valuable, necessary internship training and post training."
He added: "Without the disciplined rigorous training that a profession as medicine demanded, untrained, poorly trained, ill-equipped and ill-prepared doctors could and would become a serious liability to the Bahamian and visiting public."
Mr Lloyd revealed that over the past five years, there has been an increasing number of UWI graduates and non-UWI Bahamian graduates seeking training opportunities in the country's healthcare system.
Referring to a contribution by Health Minister Dr Duane Sands earlier this year, Mr Lloyd acknowledged the massive logistical, fiscal and ethical nightmare the influx continues to generate.
Mr Lloyd noted that an official letter was sent by Dr Robin Roberts, director of UWI's School of Clinical Medicine and Research Bahamas, to UWI informing the institution that the Bahamas could not sustain more than 25 students, and that only the top 25 applicants for the MBBS programme at UWI should be identified and their names forwarded to Dr Roberts for approval of the subvention.
However, Mr Lloyd said the intended plan was unsuccessful, adding that the school proceeded with the common practice of granting scholarships to any Bahamian student that qualified for acceptance, backed by a subvention from the Bahamian government.
Mr Lloyd further revealed that as of September, the government was financially supporting 57 first-year students at UWI's three campuses - nine at Cave Hill, 12 at Mona and 36 and St Augustine's.
Additionally, there are 33 year-two students, 44 year-three students and 44 fourth-year students who, upon completion, will come home to start their clinical training in 2019 at either Princess Margaret Hospital or Rand Memorial Hospital.
"There is a total enrolment of 252 across many disciplines at UWI," Mr Lloyd said. "In total, the Bahamas government is subsidising the education of 134 medical students at UWI."
He continued: "If all of the subventions across the three UWI campuses and local UWI programmes were totaled, we would be expected to pay - in 2018/2019 - the university $9,474,576. That's $9,400,000 plus of the $17.8m spent on all scholarships - 53 percent.
"More than half of all scholarship monies spent by this government goes to UWI. That must be recalculated.
"There is a need for doctors," Mr Lloyd said. "Yes, there is also a need for radiographers, lab technicians, medical technologists, nurses, patient care specialists, occupational therapists, phlebotomists, surgical technologists and physician assistants."