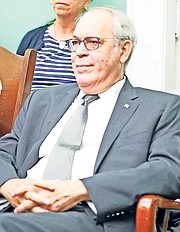 By KHRISNA RUSSELL
Deputy Chief Reporter
krussell@tribunemedia.net
BRENT Symonette, minister of trade, financial services and immigration declared his interest in Town Centre Mall in Parliament yesterday.
He stood to declare his interest in the mall and a company called BHRSC Holding Ltd after Official Opposition Leader Philip "Brave" Davis raised a point in the House that a declaration should be made and the House take a vote on whether the MP would have to vacate his seat.
Mr Symonette said: "Mr Speaker in order to try and resolve where we are in order to help the member for Cat Island and the honourable House, the resolution itself speaks to a beneficial ownership of a member sitting. Without saying it they are vobviously talking about me…
"Speaker it is wonderful to be the first in history to have such a debate."
He then laid on the table the annual statement for the Blue Hill Road Shopping Centre Limited, stamped by the registrar general on October 4, which disclosed its shareholders.
"For the record they are myself, 81 shares; my wife, one share; Dionne Dean and Laura Lowe, Randy Smith, one share; BHRSC holdings Limited 9,610 shares out of 10,000; Furniture Plus, 96 shares; Tops N Jeans, 96 shares; 71 Percent, 113 shares.
"I also beg leave to lay on the table the annual statement for BHRSC Holding Limited which was filed in the Registrar's Office November 21, 2017, which shows there are 5,000 shares in that of which my brother owns 2,500 shares, I own 2,496 and there are three nominee shares which are nominees of myself and the fourth share my wife.
"As you can see from here BHRSC holdings owns 9,610 of the 10,00 shares. A company by the name of 71 Percent Holdings Limited owns 113, which is either myself my wife or my children for all intents and purposes and I own 81 of the shares.
"So I trust that solves the problem.
"That's the number one issue that I declared my interests. Now, the House can do what they want from here."