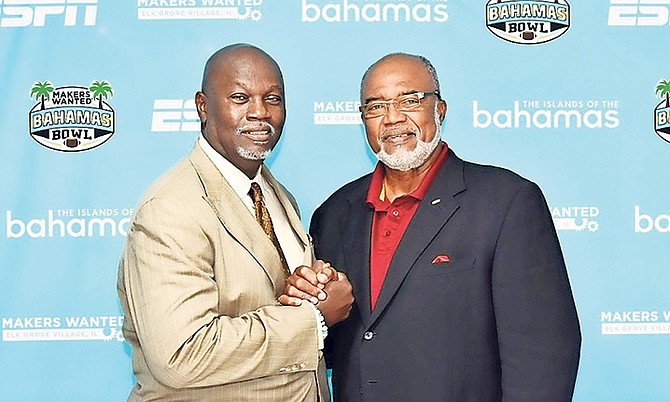 FROM playing around as kindergarten students to trying out for the National Football League, Ed Smith and Allan Ingraham are still close friends, although they ended up heading in different directions.
"We knew each other from we were pee wees, going to kindergarten school together, then primary school and high school and we played everything together," Smith recalled.
"But in 1965, I got an opportunity to go to the United States and Allan continued to play here in the Bahamas. I was exposed more to the game and had actual coaching experience and that helped me to develop into an All-American and eventually I got drafted to play in the NFL."
While here on vacation with his family in 1973, the late Hall of Famer George Allan, then the head coach of the Washington Redskins, got invited to watch an All-Star game that featured Ingraham and Godwin Blyden, who at the time were considered the premier players in the country.
Allan was so impressed with what he saw that he invited both Ingraham and Blyden to a Redskins training camp that same year. It just didn't turn out in either of their favour.
"It was close for me. I had the knowledge of the game, but not the playing ability," said Ingraham, who was eventually cut along with Blyden.
It turned out to be a learning experience. "That made a difference because coaching is all about technique," Smith said.
"Playing is all about techniques. You can tell a guy when he doesn't have the experience when you see him on the field. Those were the types of things that Allan wasn't exposed to because the guys coaching here didn't know themselves."
In the true form of friendship, Smith came home about six weeks before Ingraham left for the training camp and gave him a crash course, but obviously it wasn't enough to get him over the top and in a NFL uniform.
Despite falling short, Ingraham said Smith helped him to master the head slap, which helped him as he continued to play the game locally.
"Working with Ed, the crash course he put me through and using the weights at Magon Gym, I got better," Ingraham said. "We turned out to be war buddies on the field because whenever he came home, I was there to help him work on his game. We did it together in practice.
"For me to get through to the NFL, I had to learn from him and for him to get through, he relied on me to help him. That was how close we were as friends. What I learnt from Ed was what got me to where I was when I went to the Redskins camp. Unfortunately, I didn't make it."
Smith, however, went on to become the first Bahamian to get drafted in the NFL in the 13th round with the 319th pick overall by the Denver Broncos. Under weighted at the time, he only played in five games and spent most of the season on the inactive list.
The next year, he started in three games. Then in 1975, he was placed on the injured reserve list with a career-ending neck injury, missing all of the season and he eventually retired before the start of the 1977 season.
Thirteen years later, Smith watched as his son, Alex, followed in his footsteps, drafted by the Tampa Bay Buccaneers in the third round with the 71st pick. He would go on to play for 11 seasons with the New England Patriots (2009), Philadelphia Eagles (2009); Cleveland Browns (2010-2012); Cincinnati Bengals (2013-2014); New Orleans Saints (2015) and the Redskins (2015).
"As a father, you always want to see your son succeed, so I was able to help him each and every step of the way," he pointed out. "I was able to tell him that his catching is good, but he need to work on his blocking and he would listen.
"After every game, the first thing, before we do anything, like going to dinner, I like him know what I thought about the game, great game, until we finally got to the point where I told him 'you're the real deal. You are on your own.' That's when he knew he arrived."
Today, however, the elder Smith said he's a bit surprised that the Bahamas haven't produce any other Bahamians to play in the NFL because he always felt that the talent is here.
"Doors have to open for kids to come to the United States and play," Smith pointed out. "If you don't have a relative to stay with or you can't afford to go to IMG or a school of that recognition where you can live full time and embrace the sport, it's difficult otherwise to make it just playing here."
That's one of the reason why Smith said he's appreciative of the fact that the Makers Wanted Bahamas Bowl has invited him to be their honorary ambassador for the 2018 college game that will be played on December 19 and also allow him and Ingraham to participate in a clinic for youngsters.
"One of the scouts could recognize the talent of a Bahamian player like George Allan did when he saw Allan Ingraham play in the All-Star game," Smith stated. "Maybe if he talk to that kid, that kid might have a relative who lives in the States, who say yeah you can come and live with me for a couple of years and see if you can get a scholarship.
"That's how doors are opened for these kids to be able to play American football. So I want to encourage as many Bahamian youngsters, who are interested in playing the game, to come out and participate in the camp."
The camp will be staged outside of the Thomas A. Robinson Track and Field Stadium, two days before Smith will serve as the honorary ambassador for the college game between the champions of the Mid American Conference and Conference USA.