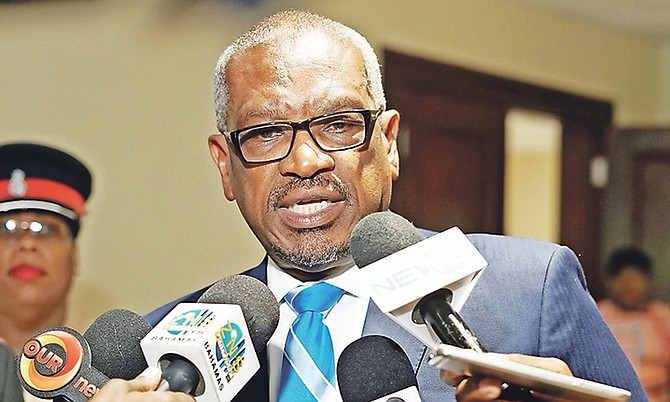 By RASHAD ROLLE
Tribune Staff Reporter
rrolle@tribunemedia.net
PRIME Minister Dr Hubert Minnis said he is not focused on the four backbenchers who have occasionally bucked his administration's agenda, sometimes in caustic tones.
Golden Isles MP Vaughn Miller, Centreville MP Reece Chipman, Pineridge MP Frederick McAlpine and Bain and Grants Town MP Travis Robinson joined the Official Opposition in voting against a resolution on Wednesday to enter a lease agreement with the Town Centre Mall which would be the new home for the General Post Office. The mall is partly owned by Financial Services and Immigration Minister Brett Symonette and critics say the government should not enter a business arrangement with a sitting Cabinet minister.
Asked about the rebel four yesterday, Dr Minnis told The Tribune: "I am more focused on doing what I think is right and I think we did the right thing, as the matter was discussed thoroughly. We've been looking for solutions and we found the best solution. (Brent) was never involved in any of the discussions. It is a no-brainer to many who look and those who have a problem, tell them to find me another place. You cannot talk in a silo."
Free National Movement Chairman Carl Culmer, in a separate interview with The Tribune, insisted the FNM is a "party where persons can speak freely."
However, he questioned why the four parliamentarians critiqued the plan without offering an alternative solution. He also said the FNM rebel MPs were given opportunities to voice their concerns at a private meeting and they did not do so.
"The meeting was held and the issue with the post office was brought up and there was no dissenting voices," he said. "It makes one try to understand what this is all about. I have my suspicion. I don't know if it's sour grapes because they were removed from office."
Earlier this year, the four backbenchers voted against the government's increase in value added tax. As a result, Mr Miller, Mr Robinson and Mr McAlpine were removed from their posts as parliamentary secretaries and Hotel Corporation chairman, respectively. In March, Mr Chipman was fired as chairman of the Antiquities, Monuments and Museums Corporation. He expressed his anger over the firing at the time.
Privately, some FNM supporters wonder if the four MPs will be pushed out of the party.
Mr Culmer, however, said "as long as they are FNMs they will have our support." He insisted the party does not regret backing them for office.
"We continue to extend courtesies and the olive branch to them," he said yesterday. "I've been reaching out to those guys from day one."