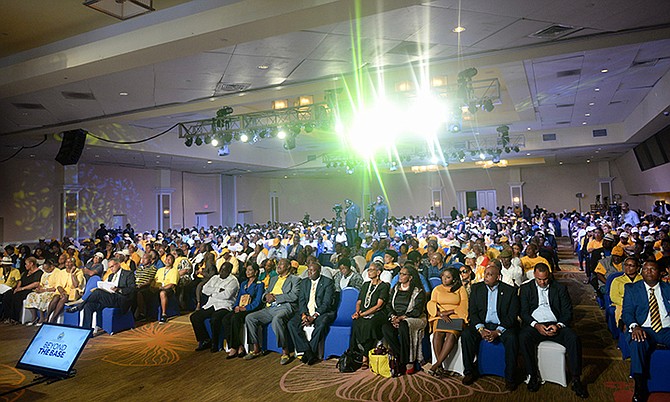 By RASHAD ROLLE
Tribune Staff Reporter
rrolle@tribunemedia.net
THE Progressive Liberal Party has postponed its national convention to next May.
The official reason for this is to improve the party's platform and get its branches ready. However, privately some acknowledge that financial constraints are the major impetus for the postponement.
The convention had previously been scheduled for November 14, 15 and 16. No clear challenger had emerged in recent weeks to Philip "Brave" Davis' leadership, so a campaign to reform the party's constitution was expected to highlight the event.
Asked about the delay, Mr Davis said the party is "still updating its branches, still doing a number of things to ready ourselves." He said officials felt it would be redundant to have a convention this year, having had two general conventions in 2017 – one months before the May general election and the other in October – and a constitutional convention earlier this year.

Another high-ranking source in the party who was not authorised to disclose internal deliberations told The Tribune the event has been postponed because of financial issues. The party amassed significant debt during the 2017 general election campaign. Opposition parties often struggle to raise money the first several years after an election defeat.
A convention of the kind hosted by the PLP typically costs at least hundreds of thousands of dollars. The Tribune was told that lack of resources isn't expected to be an indefinite problem––the party expects to have what it needs to host a typically grand event by May.
The party's constitution mandates that it hold a convention every year. The Free National Movement's constitution likewise mandates that it holds a convention every two years. Neither party has a history of consistently complying with these provisions. Mr Davis said a change in the required frequency of national conventions is among the proposed constitutional reforms the party will consider at the next convention.

Former PLP Cabinet minister George Smith welcomed the convention's postponement last week, saying it gives the PLP time to strengthen its platform. He did not attend the party's National General Council meeting on Thursday night and could not say definitively what prompted the change.
"I think we needed time to get rolling so we could identify candidates and complete the process of finalizing the constitution for adoption," Mr Smith said. "We want to have a few more things accomplished. It's a question of timing and testing the state of the organs of the party."
The PLP is also mourning the loss of Bradley Roberts, the party's chairman emeritus, who died at the age of 74 at home on Thursday.