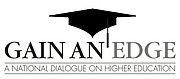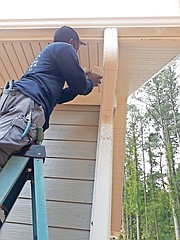 Before Valentino Burrows enrolled at the Bahamas Technical and Vocational Institute (BTVI), he admits to "floating through life." He began his post-secondary pursuits at a local institution of higher learning, but it was not a good fit for him. It was not until he began classes at BTVI that he began soaring.
"I enjoy working with my hands and actually seeing the transformation before my own eyes. What I appreciate about my technical education is that it prepared me to go directly into the workforce with the skills that I needed to succeed," said the 2015 Electrical Installation graduate.

"I spent two years in a traditional college experience because I thought I was supposed to go to college. It was disheartening to me when I didn't thrive there. I wish I could have jumped right into BTVI and gotten my education completed even sooner," said Valentino.

Today, Valentino works as an apprentice residential electrician for Genesis Electrical Service Inc. in North Carolina. Valentino said every day he uses the knowledge gained at BTVI.
"Although there was a learning curve with this job because of a different electrical code, the foundation I formed at BTVI was crucial for my ability to adapt quickly and become a dependable employee. I appreciate the hands-on approach and solid focus on application that I got during my time at BTVI," said the young man, who is married to an American.
In a 2017 Washington Post opinion piece, President and Chief Executive of Zenith Education Group, Peter J Taylor, noted that careers based on vocational training do lead to viable jobs that pay family-sustaining wages.
"So many American success stories have demonstrated, there isn't just one path to prosperity. That's why it is important to stop pretending four-year institutions are a one-size-fits-all solution to finding rewarding careers. It's also time to recognize that various forms of education will provide young men and women with the skills needed to find long-term, meaningful work," said Mr Taylor.
Meanwhile, Valentino said he continues to use the knowledge gained at BTVI daily, adding that BTVI instructors taught him the fundamentals of Electrical Installation that became a bedrock for his career. "Encountering the National Electrical Code (NEC) and wiring my own 200 amp panel made me appreciate what I learned at BTVI. Again, the USA uses a different electrical code than The Bahamas, so it was definitely a challenge at first. However, I really did gain a solid foundation at BTVI and knowing the general principles of electricity (working with wire colors, their sizes, what they are used for both theoretically and practically) made me greatly appreciate what I learned at BTVI. Despite the differences, I was able to apply what I had learned, and the rest I was able to figure out," he said proudly.
While at BTVI, Valentino was afforded an Emerging Leaders in Americas Program (ELAP) scholarship, through which he was able to attend Holland College for two semesters back in 2014. Valentino was enrolled in the Energy Systems Engineering program where he learned to build solar air collectors. He also learned about program variable frequency drives to control three-phase motors and how to write a business plan, while studying improvisational acting and even getting to play some football.
"I know for a fact that I would not have been able to spend four months studying in Canada had it not been for BTVI giving me that opportunity. It was an incredibly formative experience. I met people from all walks of life while learning about solar thermal technology and even went skiing. It opened my mind to take a chance working in the USA and know that I could succeed doing so," said Valentino.
Additionally, while in the US, the determined BTVI graduate refuses to sit on his laurels.
"My first goal is to get my limited electrical license over here in the States. That way I could pull my own permits and work on my own. My ultimate goal is to get my unlimited electrical license. This would really open up a world of opportunity for me," he stated.
Valentino went on to encourage high school students to consider technical vocational education and training.
"BTVI is one of the best environments I've been in for learning. It isn't just about the technical knowledge, but your character and work ethic as well. You can have all the knowledge in the world, but without character you won't go far in your career. BTVI helped me discover some of my inner talent that I didn't know I had. My instructors and the staff really pushed me to discover my full potential and not settle for anything less. Had I not moved to the United States, I would be back at BTVI furthering my education and continuing to learn my trade," he concluded.
Gain An Edge is a weekly collaboration of the Lyford Cay Foundations, Bahamas Technical and Vocational Institute and University of The Bahamas aimed at promoting a national dialogue on higher education. To share your thoughts, email gainanedge@tribunemedia.net.