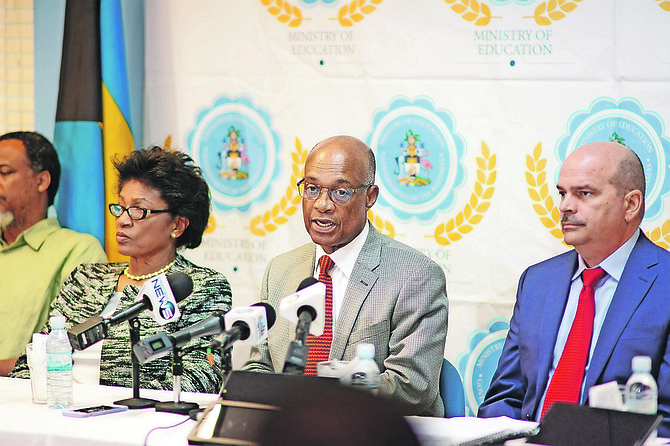 By Morgan Adderley
Tribune Staff Reporter
madderley@tribunemedia.net
AN agreement was signed yesterday between the Ministry of Education and BTC to upgrade internet access in all government schools across the country.
As a result of the five-year contract, more than 100 schools will receive fibre optic technology - with a budget set for the first year of $8m.
BTC will also provide 2,500 tablets for teachers as well as pre-school and primary students.
Education Minister Jeff Lloyd celebrated the signing yesterday as a "propitious moment" during a press conference held at the Ministry of Education.
"We are very happy that the digital revolution in education begins today with this initiative with ourselves and our strategic partner, BTC," he said.
"The very first step in this phase will be the installation of fibre optic infrastructure, that will be fully implemented in phases at all government schools, satellite offices, throughout our country, beginning today.
"This installation will ensure that each school is a fully computerised 'smart school'," he added.
He said this technology will be used to facilitate distance learning and enable students deprived of special teachers to receive the information in real time.
Mr Lloyd said the first phase of the initiative will improve the technical infrastructure linking of all districts, public schools and satellite offices.
"These fibre optic cabling and other enhanced internet access services will be provided in 'graduated stages' throughout our system," he said.
He promised that at the end of this academic year, June 2019, the system will have full internet access, a completely enhanced Wi-Fi network, a unified threat management security solution, and mobility solutions for tablets and other devices.
Twenty-seven schools will be upgraded in September and 28 schools in October. He added all Family Island schools will be correspondently connected through these fibre optic networks.
The first five schools will include SC McPherson, CV Bethel, Anatol Rodgers and CR Walker.
Mr Lloyd said the budget for this year for the programme, the 'One Network Project,' along with the computerisation of schools, is $8m. However, he said the actual amount spent this first year is expected to be $5-5.5m.
"And then on top of that…each year there will be a recurring cost added to your telecommunications bill. And, of course, if it's somewhere in the neighbourhood of $1m a month, then it's $12m a year. But that is incremental to whatever is now our telecommunications cost with BTC."