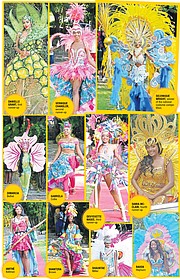 Bahamian pride was displayed in new and creative ways as the 'Empowered 11' contestants of this year's Miss Bahamas Universe pageant showed off their entries into the national costume competition.
Before the young women walked the runway in their costumes, they participated in a island-wide motorcade on August 25, with Yasmine Cooke, the current Miss Bahamas Universe, leading the way.
The "Empowered 11" motorcade began at Arawak Cay, circled the island and ended with a grand entrance into the inaugural Miss Bahamas Universe Island Festival hosted at the Nassau Botanical Gardens. There, the contestants were welcomed by fans, family, sponsors and onlookers who enjoyed food from local vendors, drinks and music while supporting their favourites.
Each contestant displayed the finest artistry from top Bahamian designers, both experienced and new to local pageantry. This year's competition theme, "World View", lent itself to expanding the idea of the national costume, keeping in mind that the winner will be an ambassador of the Bahamas to the world.
Miss Bahamas Universe teamed up with Commonwealth Fabrics, which provided each contestant with four yards of material as inspiration and a blueprint to collaborate with a designer to depict a national symbol, treasure or valuable resource.
According to Anthony Smith, the new Miss Universe franchise holder and national pageant director, "historically Miss Bahamas has stood out for decades due to our flamboyant display of indigenous costumes. Contestants and their designers work arduously to create intricacies inspired by Bahamian people, places and things. Since the inception of Miss Bahamas in 1961 it has been a tradition that the winning local costume is often worn during Miss Universe, but that is not a Miss Universe policy or rule."
This year's crop of contestants range from college students and athletes, to entrepreneurs and working professionals. The 'Empowered 11" are: Dimarcia Bethel, Shantera Brown, Vernique Chandler, Gabriela Collie, Danielle Grant, Raven Hepburn, Ianthé Kellman, Samia McClain, Shauntae Miller, Devyevette Nagee and Selvanique Wright.
Newscaster Chester Robards was the event's host, and the excitement filled the venue when the top 5 winners were announced for the national costume competition. They are:
Selvinique Wright, with a costume designed by Bahamas Masqueraders and House of Raphelita

Danielle Grant, with a costume designed by Javotte Bethel

Vernique Chandler, with a costume designed by Javotte Bethel

Devyevette Nagee, with a costume designed by Cedric Bernard

Samia McClain, with a costumes designed by Javotte Bethel
Online voting for Miss Bahamas Universe 2018 opened yesterday, so Bahamians have an opportunity to choose a favourite contestant through a special "People's Choice" vote that will fast-track their favourite contestant into the top six, as the competition progresses. The contestant who sells the most tickets and advertisements will win the "Queen of Commerce" Award. Online sales count towards that total and are credited to a contestant upon check out.
The pageant's grand finale will be held on Sunday, September 16, at the Atlantis Theatre. The winner will represent the Bahamas at the international pageant in Thailand this December.
• Check out Tribune Weekend this Friday as the "Empowered 11" compete in the swimsuit, evening gown and swimsuit preliminary competitions.