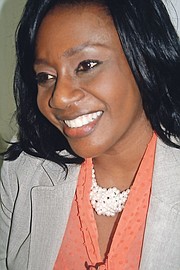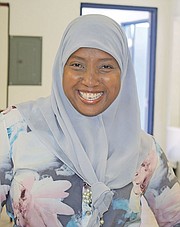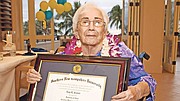 By JEFFARAH GIBSON
Tribune Features Writer
jgibson@tribunemedia.net
Ninety-four year old great-grandmother Amy Craton's compelling story of receiving her college degree last year with a perfect 4.0 grade point average proves that no one is ever too old for school.
Amy, a Hawaiian resident, had put her college education on hold in 1962 to return to work and raise her four children following a divorce. More than 50 years later, this firm believer in life-long education decided that she not want to waste her "golden years being idle." She went back to school through an online programme offered by the Southern New Hampshire University and earned her degree in Creative Writing and English.
Amy has something in common with many Bahamian women aged 35 and over who are also finding themselves going back to school this week after years-long absences.
Like Amy, these women are determined to achieve their academic goals even if it means making compromises and difficult adjustments in their lives. How and where those adjustments need to be made is where the challenge comes in.
According to Kerima Smith, head of Business Studies at the Bahamas Technical and Vocational Institute (BTVI), once women are equipped with purpose and a plan, their transition back to school can be made as close to seamless as possible.
As an instructor, Mrs Smith has counselled many women who have made the decision to go back to school to obtain technical skills or pursue an academic degree.
"What I have experienced is that many women who are returning are not doing so only because they want to learn, some of them feel stuck," she said.
"They have been on a job for more than 10 years and there is no hope of getting promoted. They see younger women come on the job and achieve much more than they have been able to, even though they have been on the job longer. They want to make an impact in their workplace at the senior level and see continuing education a way for them to do this," she told Tribune Woman.
Mrs Smith said she has also observed that many of those women are doubtful of their ability to successfully complete their courses, especially when they are amongst younger students in the classroom.
"It is scary and sometimes they doubt themselves. But what I let them know is that they have the upper hand. Those women have on-the-job experience, so the information they are exposed to during the courses is something they can relate to. For instance, they may be currently working in accounts but need to get certified in that particular area. Because they have been working already they are aware of certain things and can add value to classroom discussions," she said.
Juggling motherhood, a family, work and school is a huge challenge for those women, Mrs Smith conceded. She herself has first-hand experience of this juggling act, but has found a way to balance her educational pursuits with everything else going in her life.
Mrs Smith is currently pursuing a Master's degree in Management.
"I am also pursuing this part-time while also juggling motherhood and family life. I decided to take the heaviest load of my course this year. As a part-time student you are advised to take two courses. But I decided to take on three because I was just determined to finish," she explained.
Then life happened.
"My father died in March. There were days where I would just come home and only play Whitney Houston. A few months after my father died, my mother had a massive stroke. And through all of this I am doing school. And what I learned is that in order to be successful you have to compartmentalise and put yourself in a zone. That was how I was able to successfully complete those courses. I also couldn't do it without the help and support of my husband and family," she said.
Pleshette McPhee, dean of academic affairs at BTVI and a mother of three adult children and a nine-year-old, echoed the vital need for a support system. She is currently studying towards her doctorate in Organisational Leadership Human Resource Development Specialisation at Barry University in Miami.
"I would advise (women) to establish a support system, whether that support system includes family members, classmates or friends. You will need persons to read/edit papers. Secondly, I would advise them to get adequate sleep. The lack of rest affects so many other variables in life," she told Tribune Woman.
Ms McPhee said she sees many women struggling with coping to meet all of life's challenges
"With the pursuing of a degree, there must be some reshuffling," she said.
Those challenges can be remedied by practicing what Ms McPhee calls the 'four P's'. They are 'pray protect time, prioritise and pull away', and they have helped her successfully navigate this journey.
She explained: "I ensure that I sustain my relationship with God through communicating with Him. I trust God's guidance and wisdom in all I do.
"Time has become a precious commodity for me. I detest wasting time. Over the years I have learned to tactfully not allow people to invade my time. I guess that's why my pastor describes me as as serious. I live by lists and prioritisation. It is important to decide on what to focus on first, second, third or fourth. I actually create a list and check off as the tasks are completed. In the book of Habbakuk, we are admonished to write it down.
"I remove myself from everything and everyone. It is critical for self care/self preservation. Even Jesus retreated, moved away from his 12 disciples to solitude and silence. Over the years, I have practiced the art of excluding myself. I love reading articles, books or research that are transformational and inspiring. I love basking in God's presence; I do this sometimes by listening to worship music. My notion is that I am no good to anyone unless I pull away and refuel," she said.
Ultimately, Ms McPhee wants to urge other women "to accept that their academic trajectory is not an event but a process."