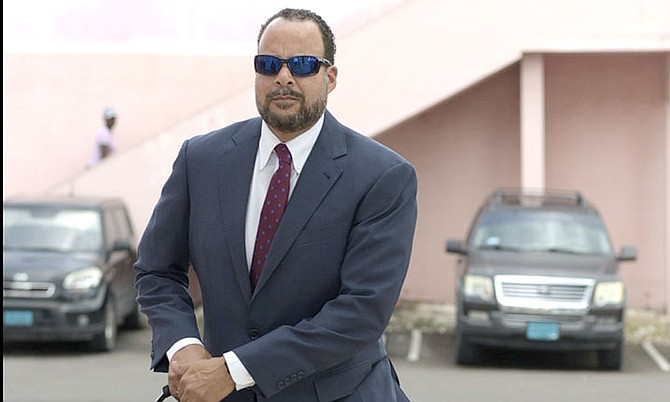 By RICARDO WELLS
Tribune Staff Reporter
rwells@tribunemedia.net
THE Frank Smith bribery trial resumed yesterday with his lead attorney Keith Knight, QC, giving notice to prosecutors of his need to cross-examine Health Minister Dr Duane Sands before requiring the prosecution's lead witness, Barbara Hanna to return to court.
The point was made during the opening moments of yesterday's proceedings, with Mr Knight refusing to relent on his request to have Dr Sands appear in court, on the record, ahead of Mrs Hanna's next appearance.
Back in June, the court heard testimony that a contract was approved, estimated at $1.9m for Mrs Hanna's Magic Touch cleaning company, less than three months after criminal charges were brought against former Hospital Authority Chairman Frank Smith.
Public Hospitals Authority (PHA) legal advisor and board secretary Leslie Isaacs had testified earlier that the contract was approved last October.
Responding to Mr Knight's insistence to have Dr Sands appear as soon as possible, the Crown's lead attorney, Edward Jenkins, QC, yesterday informed the court that his team attempted to contact the Elizabeth MP to arrange an appearance, but was unsuccessful.
Mr Jenkins said Dr Sands would not be able to appear before Wednesday, at the earliest.
He further proposed that the case proceed as best it could, with a view to having Dr Sands appear in the coming days.
Meanwhile, both sides continued with the cross-examination of Mrs Isaacs, who while under oath yesterday, fielded questions over the legitimacy of various PHA documents, board signatures and practices in the lead up to and following the 2017 general election.
Among the documents she was asked to review and acknowledge was an August 11, 2017 letter from former PHA Managing Director Herbert Brown to a senior health official, urging them to seek a legal opinion from the Office of the Attorney General on the awarding of the 2017 cleaning contract to Magic Touch.
The document was entered into evidence.
Mrs Isaacs was also presented with a salary deduction form signed by Adrian Hanna, the son of the prosecution's lead witness, authorising PHA officials to deduct and pay out incremental sums of $400 to a lending agency in February 2016.
The point has been queried throughout the trial, with Barbara Hanna initially testifying that her son was no longer with PHA in the early part of 2016.
However, Mrs Isaacs testified that while she was familiar with the codes and instructions presented on the document, she was not familiar with the documents itself, telling the court that in her 17 years of employment at PHA, she has never come across such a document.
Once this indication was given, Chief Magistrate Joyann Ferguson-Pratt ruled that Mrs Isaacs could not speak to the document any further.
Before ending his cross-examination of Mrs Isaacs, Mr Knight successfully entered two other documents into evidence - the first being a document that outlined the existence of a Barbara May Hanna, a maid stationed at the Princess Margret Hospital who Mr Smith reportedly referred to in his interview with police and a document that outlines the awarding of a cleaning contract to Magic Touch.
The case will continue today at 10am.