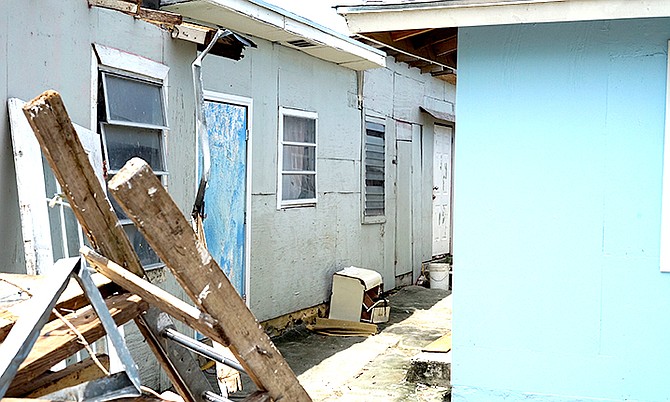 By AVA TURNQUEST
Tribune Chief Reporter
aturnquest@tribunemedia.net
THE government's Shanty Town Action Task Force has been dissolved in New Providence, according to Labour Minister Dion Foulkes, who told reporters outside Cabinet yesterday his team was still fulfilling its mandate in the Family Islands.
Mr Foulkes said he and Minister of Public Works Desmond Bannister are investigating why a letter mandating the removal of a structure located east of Bacardi Road was sent out by the Building Control Division last month.
The Supreme Court previously ordered the government and utility providers to halt any planned evictions, service disconnections or demolitions in shanty towns pending a judicial review of the Minnis administration's policy to eradicate those communities, filed on behalf of 177 shanty town residents from both New Providence and Abaco.
Legal counsel for residents, Fred Smith, QC, has threatened to petition the court to have top officials cited for contempt if the notices are not rescinded, and certain conditions met by 4pm on Friday.
Attorney General Carl Bethel told reporters outside Cabinet yesterday he was confident the matter would be amicably resolved with legal counsel.
"We are investigating," Mr Foulkes said, "we do not know whether that is connected to the shanty town matter or that's a separate thing that they normally do in their normal course of work down at the Ministry of Works."
He continued: "Since the injunction, we have dissolved the Shanty Town Action Task Force in New Providence pursuant to the court order. We are very active in the Family Islands, we are active in Abaco."
When asked whether there were any concerns a judicial review would be launched to cover unregulated Family Island communities, Mr Foulkes said: "I cannot anticipate that, we have a mandate by the prime minister to pursue the matter and we are pursuing it."
Mr Foulkes said he plans to travel to Abaco on Saturday for a meeting on the next phase of consultation, establish five subcommittees, and to explore alternative housing arrangements for the resident population, which is estimated to be between 2,000 and 7,000 people in the Mud and Pigeon Pea settlements.
"The survey will give us the exact number of the residents in terms of the children," Mr Foulkes said, "in terms of the adults, who have legal status, that will give us an idea of what exactly we are faced with in Abaco."
In early August, Haitian Pastors League President Dr Jean Paul Charles told The Tribune he did not think the number of families still living in all 11 shanty towns in the capital exceeded 150 groups.
Yesterday, Dr Charles said there did not appear to be any significant level of recidivism in those communities as a result of the injunction.
Outside Cabinet, Mr Foulkes said: "We removed close to 400 derelict vehicles (in New Providence), we were in the process of having very good meetings with Haitian Bahamian leadership. We had Haitian leaders going into the communities persuading people to leave.
"In one community, there were about 40 households, and there was only one remaining household left there and I was told that that family was about to leave.
"I don't know what happened since the injunction."
He added: "We are under strict instructions not to do anything in New Providence until the court matter is heard."