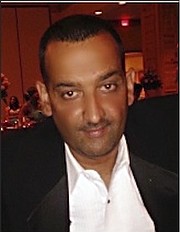 By INIGO 'NAUGHTY' ZENICAZELAYA
THROUGHOUT my lengthy comedy career, I've learnt one thing, a good joke and laugh catches every Bahamian's attention.
We as a people love to laugh, sometimes a good laugh is needed, in order for us to take a step back, examine the situation at hand without taking ourselves too seriously. (Attention Bahamian politicians from all parties) and move forward with a positive solution, beneficial to all Bahamians in the long run.
So with that being said, here's what came across my radar this week.
NO RETURN, NO REFUND
I know I shouldn't be surprised when I see headlines in The Tribune like "Lucayan Valuation Only Now Underway".
After the Oban near fiasco (and other missteps) by the current Minnis administration, Bahamians have quickly come to learn that being thorough is not a tool in this government's box.
Still, I find it hard to believe that we are only now conducting an updated appraisal on a hotel the government has already bought, even if the purchase is by way of a lay-away plan.
According to The Tribune article:
"In 2015, it was reported the market value of the resort was placed at $57m. Later, in 2017, the value was estimated at around $63.1m if the property was operating at stabilised levels. The government did not seek a new appraisal prior to solidifying interest in the Grand Lucayan, The Tribune was told, but relied on the 2015 appraisal value."
Now, maybe it's just me, but I think it takes an exceptional level of incompetence to buy a house in the current economy without first knowing the true value.
So imagine a whole hotel!
On top of that, we now have attorney Maurice Glinton, QC, on record saying that the Grand Lucayan's purchase is unlawful:
"I mean 'flawed' for not obviously being as informed as such process must be by views of proximate stakeholders consulted on the practicality and legality of an acquisition that will make The Bahamas government a licensee of Grand Bahama Port Authority Limited entitled to enjoy the benefits and privileges in virtue of the 1955 Hawksbill Creek Agreement and the subsequent 1960 and 1966 amended agreements, all statutory in nature as enabled by Acts of the Bahamian Parliament."
When asked about Glinton's take, Attorney General Carl Bethel could only respond that he'll review Mr Glinton's commentary.
In other words, it's news to him.
Which doesn't speak well to whatever is going on in the AG's office. (More on that in a minute).
Opposition Leader Philip "Brave" Davis landed a decent right jab on the Minnis administration when he said: "It is ludicrous for the government to get an appraisal after agreeing a price and making a down payment… it supports what I said yesterday. They are incompetent and making things up as they go."
Not thorough or downright incompetent? I'm still trying to decide.
There's one point I will agree with though; when you examine the "deals" made by this administration these past few months and consider all the information we modern Bahamians have at our fingertips, it truly must take a whole team effort for the government to be this inept.
LAWYERING UP
So this week we also learned from Attorney General Carl Bethel that Harvey Tynes, QC, and Robert Adams from Graham Thompson in Grand Bahama are no longer representing the government in its case against those seeking to block the government's shanty town eradication project.
On top of that, the government recently had to postpone implementing their much hyped gaming patron tax since the "numbers boys" have now taken them to court.
I won't get too deep into the actual merits of these cases just yet but I can say Bahamian "enquiring minds" do want to know what on God's green earth is going on in the AG's office?
They seem to be caught off guard a whole lot recently, and it seems to be costing Bahamian taxpayers money.
And now the AG's Office will face a true test going up against attorneys like Fred Smith, former attorney general Alfred Sears and Wayne Munroe. All Queen's Counsel.
I'm sure there are really smart lawyers in the AG's Office, but something appears to be in disarray. Which is never a good sign for the country's main legal adviser.
The attorney general represents the government. The government represents the people. So according to that old joke we're the lawyer, the client and the fool right now.
ONE BRIGHT SPOT
According to an article in The Nassau Guardian:
"Between January 1 and September 4, 2018, there were 66 murders.
In the same period last year, there were 97 murders. This means murders are down 32 percent year on year."
Granted a single murder is one too many, I am encouraged by the work of the Royal Bahamas Police Force. It's good to finally be moving in the right direction.
RIP
I was deeply saddened to learn of the passing of iconic actor and all around "funny man" Burt Reynolds.
Reynolds was a favourite of Bahamians of all walks of life, far and wide.
Throughout his career, Reynolds became a box office sensation with roles in "The Longest Yard", "Smokey and the Bandit", "The Cannonball Run", and "Deliverance". The actor's career started on television with roles in "Gunsmoke" and "Dan August".
Ah, "Gunsmoke", I can remember watching it religiously with my late grandfather KM Thompson, every Saturday at 6.00pm on ZNS.
Then again in abundance, when we got "satellite" and he found it, showing daily on WTBS.
The entire "Smokey and the Bandit" trilogy was classic, comedic brilliance in its own right.
Many a "happy tear" was shed watching as a family.
Reynolds won two Emmys for the series "Evening Shade" (hilarious) and was nominated for the Best Supporting Actor Oscar for his role in Paul Thomas Anderson's "Boogie Nights" (An instant classic on multiple levels. One of my Top 10 movies of all time).
Reynolds was a "maverick", who inspired a wide range of responses over his long, erratic career: critical acclaim and critical scorn, commercial success and box office bombs.
Helping to spur the myriad of opinions both good and bad, were relationships with Loni Anderson, Sally Field and Dinah Shore. (This alone earned him stripes in some circles).
Apart from the humour and being a straight shooter, what endeared me to Reynolds, was how candid he was about his flops, and his regrets in life, and, of course, his many achievements and famous influential friends.
Reynolds once told the Associated Press: "My career is not like a regular chart, mine looks like a heart attack. I've done over 100 films, and I'm the only actor who has been canned by all three networks. I epitomise longevity."
You got to love it!
That sums it up in a nutshell perfectly. Rest In Peace Burt, thanks for all the laughs and sound bites.
Finally, I would be remiss if I didn't mention the late Justice Stephen Isaacs.
A great Bahamian on many levels.
I had the pleasure of meeting Justice Isaacs, and I was humbled, when he told me he was a fan of this column, and looked forward to it every Friday.
My sincerest condolences and deepest sympathies to the family.
May God continue to guide and strengthen you during this most difficult time.
Until next week I will leave you with words from comedic legend, the late Rodney Dangerfield: "Don't ever be afraid to be yourself, and let yourself shine. Remember, the sun doesn't give a damn if it blinds you."