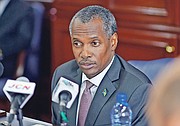 By AVA TURNQUEST
Tribune Chief Reporter
aturnquest@tribunemedia.net
FREEDOM Farm Baseball League founder Greg Burrows yesterday expressed concern that Public Works Minister Desmond Bannister was being led in the wrong direction over the Andre Rodgers Baseball Stadium.
Mr Burrows, a former PLP senator, called Mr Bannister's comments to The Tribune over the financial viability of the facility a "disaster," adding he was disappointed by the tone struck by the minister.
"Somebody is leading minister in the wrong direction," Mr Burrows said, "particularly when he spoke about the cost and that it will never pay for itself. I think the minister is off, but I also don't know if our country, or any government, supposed to look at a return for payment when we have a responsibility as government to provide opportunities for our athletes, to build capacity.
"We are doing an excellent work with sports. We have over 20 kids now in the Minor League system and this country does not have an adult size field on this island. I was able to construct one at the prison that we have limited access to. And it's a good thing (Prison Superintendent Patrick Wright) did for us."
Mr Burrows said he was part of the consultative process for the project, and was still in talks with an international group about developing a winter baseball league.
He continued: "(A winter league) speaks to tourism itself but it also gives our local guys who are away an opportunity to come home and play in our stadium. It gives our people an opportunity to see not only our guys play, but also international players. Not to mention the exposure for our local athletes to a professional facility and players.
"There is no cost associated to that. He's (the minister) been led wrong."
In an interview with Tribune Business, Mr Bannister spoke of steps taken to prevent a near-tripling of construction costs - saying the Andre Rodgers Baseball Stadium is a waste of taxpayer money that will "never pay for itself".
The government is aiming to cap construction costs at "about $30m" rather than the $43.014m full scope of works to limit the Bahamian people's financial exposure.
Tribune Business obtained internal Cabinet documents that reveal the Christie administration's initial $16.5m "estimated project cost" threatened to increase by 160 percent - almost three times' higher than the original budget.
A November 27, 2017, construction "update" revealed that the "original funds required" subsequently soared to $32.917m through the addition of more than $6m in "contingencies" and "provisional sums" to cover any cost overruns.
Terran Rodgers, a Ministry of Works architect, said in the report that construction delays due to non-payment of the contractor, Woslee Construction, plus structural engineers and other professionals, had added some $1.711m to the cost.
Yesterday, Mr Burrows said he was heavily involved in consultation for the stadium, which was designed to have the capacity to house offices like the Ministry of Youth, Sports and Culture.
Mr Burrows said he felt the figures given by Mr Bannister were "way off" as he understood it cost the government approximately $5,000 a month since the project was stalled.
He insisted total costs should not be more than $27m.
"The minister is a good man, a former athlete," Mr Burrows said, "he understands my plight. He was president of the Ambassador Track and Field Club so he should have more soft-hearted approach, particular for baseball and what is going on. We have suffered for a long time. We were also given a track stadium - will we ever pay for that?
"I'm disappointed man," he added, "I'm sad."