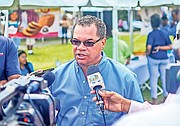 By AVA TURNQUEST
Tribune Chief Reporter
aturnquest@tribunemedia.net
THE government's plan to eradicate all shanty town communities in the country has been acknowledged by both the United Nations and the Haitian government, according to Labour Minister Dion Foulkes.
Mr Foulkes, head of the Shanty Town Action Task Force (STATF), said the committee received acknowledgement from both parties. He spoke to The Tribune on the sidelines of meetings in Abaco.
He noted the lack of international protest to the government's efforts signalled its humane approach.
"We have written to the United Nations and we have apprised them of how we are going about doing this," Mr Foulkes said.
"We have also spoken to the Haitian embassy and the Haitian government and we have apprised them about what we are doing.
"I think generally speaking it is a very sensitive and very humane manner in which we have embarked upon this exercise, and I think that is why you are not getting the type of opposition that you might have expected.
He added: "The UN they have acknowledged receipt of our plan, they have not specifically analysed it and given us a response. The Haitian government at its highest level has acquiesced to what we are doing."
People of Haitian descent, and Haitian migrants, represent the largest ethnic grouping on residents in shanty towns, Mr Foulkes said.
Leave for judicial review - filed on behalf of 177 shanty town residents from both New Providence and Abaco, and non-profit group Respect Our Homes Ltd (ROHL) - was granted last month.
Shanty town residents are seeking to ventilate concerns the government's "eradication policy" and subsequent evictions are unlawful, unconstitutional, and motivated by ethnic discrimination without clear title to land ownership.
An affidavit filed by ROHL Director, and Rights Bahamas president Stephanie St Fleur contends the challenges faced by people of Haitian descent since the 1950s have dramatically increased, most notably since November 2014 when new immigration and shanty town policies were introduced.
On August 5, the Supreme Court ordered the government and utility providers to halt any planned service disconnections or evictions in shanty towns in New Providence pending a judicial review of the Minnis administration's policy to eradicate those communities.
The government has dissolved its STATF in New Providence pending the court hearing, but has continued with efforts in the Family Islands.
Advocacy group Rights Bahamas has previously stated it intends to take its shanty town case to the international community - the United Nations Human Rights Council - and also to the Inter-American Commission on Human Rights.