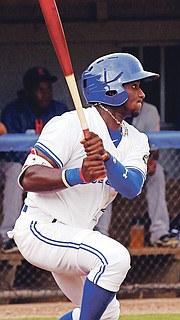 By RENALDO DORSETT
Tribune Sports Reporter
rdorsett@tribunemedia.net
HIS best season thus far in the minor leagues came to an end for Chavez Young and his Lansing Lugnuts in the Class A-Advanced playoffs.
The 23rd season of Lugnuts baseball concluded with a loss in the Eastern Division Semi-finals to the Bowling Green Hot Rods.
The Hot Rods completed a 2-0 sweep with a 4-3 win at the Bowling Green Ballpark last weekend. Bowling Green advances to face West Michigan in the Eastern Division Finals for the chance to play for the 2018 Midwest League Championship.
It was the first series victory in the Hot Rods' franchise history with back to back 4-3 wins on consecutive nights.
Young highlighted the Lugnuts lineup with his consistent play all season long and over 50 extra base hits. He led the Lugnuts in batting average runs scored and stolen bases.
It was a season of milestones for the 21-year-old outfielder as he continues his progression in the Toronto Blue Jays organisation and was named a Midwest League All-Star.
In 125 games this season, Young hit .285 with 134 hits and 57 RBI. He also had an .808 OPS, slugged .445 with 44 stolen bases, 88 runs scored, 209 total bases, 33 doubles, nine triples and eight home runs.
Young finished tied for second in the Midwest league total bases, second in both doubles and triples, tied for third in stolen bases and his 134 hits ranked sixth.
His play this season has prompted his consistent rise up the prospect ranks within the Blue Jays organisation.
Prospect analysis website FutureBlueJays.com ranked Young at No.8 among the Blue Jays prospects while the Lansing State Journal profiled the 21-year-old outfielder for his impact on the Lugnuts.
"You wouldn't ordinarily expect much from a 39th round pick, but Young is truly proving to be a diamond in the rough. The Bahamian may have been behind his peers in terms of development when he made his pro debut two years ago, but he's more than made up for that. Young has been a fixture atop Lansing's order," Future Blue Jays said.
"Young has a simple set up at the plate, gets good plate coverage, and seldom chases. He can play all three outfield spots, and has been set loose on the basepaths this year, stealing 13 in 19 attempts."
"Coming from a late-round draft guy, I've just had to work for everything," Young told the Lansing State Journal. "I never forget that this is my dream job. I always have got to have fun doing it, no matter where I'm at. I've got to be even-keeled through the bad days and the good days. I've got to stay on that even plane always and keep having fun. The hard work will pay off."
He spent last season with the Bluefield Blue Jays of the Appalachian League.
Young led the Appalachian League with eight triples, was second in runs scored with 55, and seventh in total bases with 118.
In 67 games, he hit .283 with four stolen bases, slugging .445, an on-base percentage of .336, an OPS of .781 and four home runs.