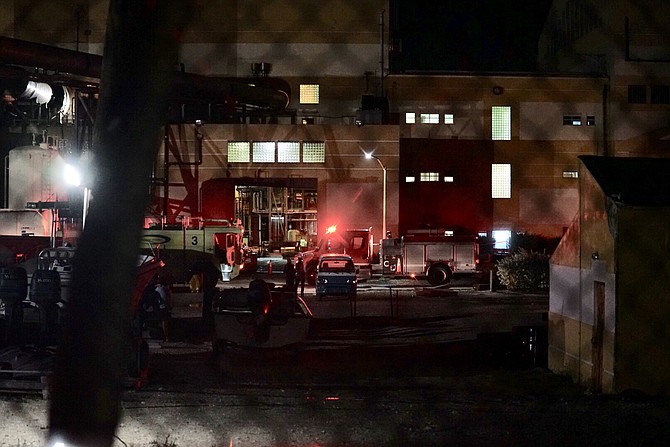 By KHRISNA RUSSELL
Deputy Chief Reporter
krussell@tribunemedia.net
BAHAMAS Power and Light Company could be facing a colossal $150m price tag to replace damaged equipment after recent fires over the weekend wiped out one engine and "compromised" infrastructure at the Clifton Pier Power Plant, Bahamas Electrical Workers Union President Paul Maynard estimated yesterday.
Three fires, the latest yesterday morning, caused damage to two engines at the plant, rendering one of these "shot", Mr Maynard told The Tribune. The other, he said, will have to undergo an insurance adjustment.
In an interview yesterday, the union chief explained that not only were the engines damaged, but the foundation to which one is bolted was also "compromised" due to the severe heat the fires caused. As a result, he said officials are faced with between $100m to $150m to replace the engine and make additional repairs.
Meanwhile, Public Works Minister Desmond Bannister had very little to say of the situation at BPL other than telling The Tribune that an investigation will be conducted to determine the cause of the fires.
The first fire broke out at the plant around 10.30pm Friday, according to BPL's CEO Whitney Heastie, who has since appealed to the public to assist the electricity provider by conserving energy so it can meet energy demands.
The second blaze erupted Sunday night shortly before 10pm - and Fire Services said that three units were on the scene.
Another fire erupted yesterday morning, around 8am. The damage to which Mr Maynard was referring happened after the first two fires.
It is unclear how this third blaze would have affected already compromised infrastructure and equipment. Mr Maynard suspected this happened because foam was not used to put out the previous fires. He said fire officials used foam the third time, which he said should do enough to keep future fires from igniting.
He rejected the assertion the situation was the result of sabotage, adding it was neither the result of employee negligence.
Officials said Saturday load shedding is expected to last throughout the week.
Asked to reveal the extent of the damage based on his walk through of the facility at Clifton on Sunday, Mr Maynard said: "I think one of them is shot. No one is worrying about that any more.
"The other, the insurance will have to do an adjustment on it. The thing about it is the building is finished. The building has seen a lot of heat and there are a lot of cracks in the foundation. It took a year to pour the floor, the engine is bolted down to the floor so the floor, because of the heat, is compromised.
"And so if you could imagine if you start it again it would shake that place to pieces.
"It'll be $100m to replace one including the building, $100m-$150m, with long-term impact," he said of the mountainous cost the day after the fires.
"But I say we use it as an opportunity. Clifton has not produced more than 50 to 60 megawatts of power consistently in the last 18 months.
"So whoever we deal with needs to be told that we need 120 megawatts of temporary power right away. They can install that while they doing what they have to do. They can install it within three to six months.
"That will take the load off the people with the diesel premium they are paying. That way you are now on propane."
He continued: "You have two companies, either Shell (North America) or New Fortress that can move the world. They have plenty, plenty power. When I say power, I mean they have the capacity to do what needs to be done. That's how we see it."
During Saturday's press conference at BPL's headquarters, Mr Bannister explained why BPL would not announce in advance which areas will experience load shedding. He stressed there have been numerous incidents in the past where the broadcast of scheduled outages has endangered customers.
"It's important to appreciate the advice that the safety authorities give to BPL," Mr Bannister said.
"If you tell someone the power is going to be off, if you tell the nation power is going to be off in a particular neighbourhood and a particular time, then those people in that neighbourhood could be in danger.
"Over the years we've had too many incidents where people have been endangered; BPL doesn't want to be responsible for that so we have to be very careful," Mr Bannister said.
For his part, Mr Heastie added: "We do understand certainly there may be damage to people's property or appliances as a result of just abruptly shutting off power. We think that pales in comparison to someone doing some other harm as a result of knowing or targeting an area that may be out of power."
On Saturday, Mr Heastie explained a technician was making adjustments at a major diesel engine deck while bringing an out of service generator online when the first fire started and quickly spread down to a basement and throughout the station.
While there were no injuries, BPL officials said Saturday they could not assess the damage to ascertain how much money or manpower will be needed to effect repairs until the area is deemed safe enough to traverse.