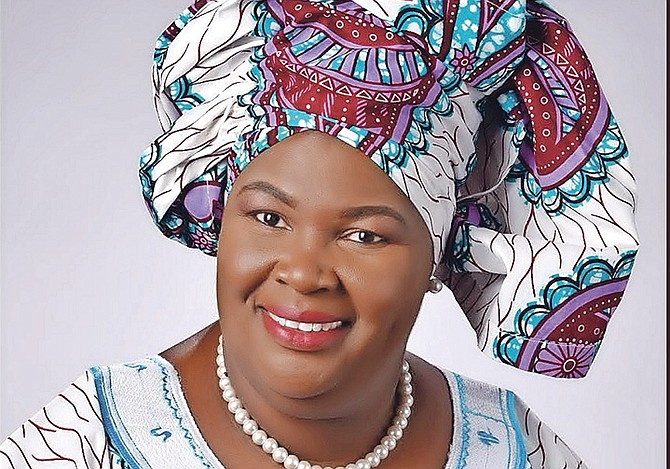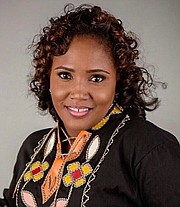 By FELICITY DARVILLE
As a child, she would play school with her dolls and teach them things she had learnt. Her navel string is planted in Fox Hill and there, she grew up practicing on family and friends at home, putting them in school for fun, too. Now that she is grown and has her own school located in the heart of Fox Hill, she is taking on a new responsibility; one that requires her to champion the rights of men, women, boys and girls throughout the country.
When former Senator Dr Jacinta Marie Higgs (nee Mackey) was born, most Fox Hillians carried out the old tradition where a young woman would return to the home of her parents after giving birth to a child. For the first two or three months, maternal grandparents, aunts and uncles would assist the new mother in caring for the infant. This practice is very similar to Biblical as well African and other ethnic traditions. Her mother, Coral Marie Mackey (nee Ferguson-Davis), went to stay with her parents on Step Street in Fox Hill, and they helped her with their newborn grandchild.
Fox Hill historical village in New Providence was once called "New Guinea" – a place where liberated Africans lived. New Guinea consisted of Congo and Nango Towns and were populated as early as the 1600s by Africans of the Yoruba, Igbo, Fulani and Hausa tribes.
A few months after her birth, Jacinta left Fox Hill and was taken home to her parents' house in The Grove community, in what was known as Mr Carey's yard to be with her father Benjamin Mannasseh Mackey and her older brother, Stephen. Shortly after, her brother Mannaseh was born.
Benjamin, a native of Wemyss Bight, Eleuthera, had several skills; he was a carpenter, farmer and fisherman, and also worked as an officer for the Boys Industrial School (now Simpson C Penn Centre for Boys). Coral was a sought after seamstress and home designer, who would make curtains and draperies, bed spreads and pillow cases for her clients. She, like her husband, also got to serve the nation in the area of steering wayward teens towards a better future as she was employed as a matron supervisor for the Girls Industrial School (now the Willie Mae Pratt Centre for Girls).
In a few short years, however, the couple separated and Coral and the children returned to historic Fox Hill. Her love of sewing showed in the numerous outfits that Fox Hillians wore – everything from school and work uniforms to outstanding apparel for wedding and funerals, to the popular Fox Hill Day outfits and other community and family events. She would eventually meet Edward Flowers and have three more children: Lillian, Frederick and Ryan. Jacinta referred to her stepfather as "a gentle, wise and generous spirit".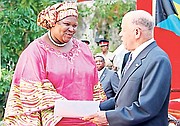 "We moved to Gun Hill Road, Fox Hill, in a two-bedroom clapboard house where the front room served as a bedroom at night, the study area during the day if you had to do homework, and a dining room at dinner time," Jacinta remembers.
"The kitchen was a table on the outside with tin pots, a tin dishpan and tin dishes which were covered with a thick, plastic sheet when not in use. About 20 feet from the back door was an outside toilet… I remember using the toilet. It was very frightening. There were frogs and insects that used it as their home. It was dark when the door was closed, and then there was the smell and the fear that you would drop in that deep hole." She chuckled to recall it, noting the simplicity of island life for many back then.
Jacinta would grow up in a "culturally rich" environment surrounded by grandparents, aunts and uncles and in a tightly-knit community. Her maternal grandmother Lillian Ferguson (nee Davis) was one of the first Bahamian women to create a straw market in down town, Nassau. She was also a homemaker and a very good cook, a skill which Lillian and her sisters inherited. Jacinta's grandfather, Clarence William (Buddy) Ferguson, a native of Snub Corner, Acklins was a community leader in Fox Hill and former Superintendent of the then Boys Industrial School. He was also the leader of several lodges during his time including St Mark's Burial Society. As a carpenter, Jacinta's father Benjamin apprenticed under his father-in-law and developed great skill.
When Jacinta was about nine years old, her grandfather built a bigger two-bedroom wooden home for his daughter so that she could stop paying rent.
"We built it on Step Street in Fox Hill and that house still stands and is still in use today," Jacinta said.
"It was a family venture; we used the ancient African principle of collective family responsibility. My grandfather, along with family and members of the community came together to build it. We all had to help build it. I remember we would have to tote rocks in buckets and I had blisters; my hands tell the tale to this day. We used the African principle of Asue, community collective sharing, to fund it so there was no mortgage on it. This was a powerful African financial lesson of not getting something until you could afford to purchase it outright."
The entire family attended St Anslem's catholic church and here, Jacinta attended prep and primary schools. In the 1970s, the school closed down and she was transferred to Sandiland's Primary School.
When she completed the 6th grade, she took the test for St Anne's high school, but was not accepted, resulting in a lesson that stayed with her: "It was a devastating experience for me. Everyone in the village knew your business for everyone knew that I had not passed. I had to be strong as an 11-year-old child and maintain the understanding of my worth in spite of not passing the exam."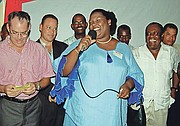 She attended LW Young and in the last two years of her education, she attended St Augustine's College, graduating in 1983. She appreciated both of these schools, located in Fox Hill, realising that "the duality" of being drenched in the Catholic system as well as the government school system provided her with "powerful experiences and powerful mentors".
"I attribute much of my success, talents, character formation, and my community and national leadership to persons such as Elma Garraway, Maxine Ritchie, Maryann Demeritte, Sheila Rolle, Mary Sweetnam and my mothers and aunts," she said.
Mrs Garraway, who led Jacinta's Girl Guides group when she attended LW Young, came to speak at St. Augustine's during her graduating year. She appealed to students to consider becoming a teacher, as there were scholarships available at the College of The Bahamas for this vocation. Jacinta applied, was accepted and four years later, graduated as a 21-year-old certified teacher. Her public school teaching career began at SC McPherson High School and spanned 13 years. She left Nassau to attend the University of St Thomas in Minnesota obtaining her Doctorate degree and she then returned to serve as Director of Education for Omega College (also in Fox Hill).
"Even as a little girl I just loved to take the opportunity to teach, train and guide," she beamed, adding that she began teaching Sunday School at St Anslem's as a teenager.
She was 17 years old when she first met her husband, Dwight Higgs. The 23-year-old from St Francis Cathedral helped to facilitate the weekend church retreat that Jacinta attended. Four months after she graduated from the COB - at the age of 21 - Jacinta was married to Dwight and they have been together ever since. Together, they have three children – Dwina, Cecilia and Christopher and a granddaughter, Chioma, and their homestead is still in the Fox Hill area today. When they met, Dwight was part owner of Higgs & Son contractors along with his father and brothers, and was an excellent heavy equipment operator. He later formed his own company, Superior Maintenance, a construction management company which successfully supervised projects for The One and Only Ocean Club, the three phases of the Atlantis Resort, Aquinas College, and the new Holy Family and St Anslem's Catholic Churches. Through her husband, she said, she is able to "describe God" because of his "generosity, wisdom, compassion for others, and unconditional, infinite love and forgiveness".
When Jacinta returned home, she became involved in front line politics and became the FNM candidate for Fox Hill for the 2007 general elections. She did not win her seat but was appointed as a Senator, a position she held for five years.
In 2011, Jacinta's dream of having her own school became a reality when she opened Akhepran International Academy (AIA). The school is unique as she is. Jacinta is known for her African outfits and for being outspoken about the need for Bahamians of African descent to discover their roots. Her elaborate headpieces have made a statement that now precedes her. In this way, she set up a school with a curriculum based on "an Afro-centric curriculum and very diverse programmes".
Jacinta explains: "My love for Africa came, in part from my cousin Lionel Davis, who was an MP for Fox Hill who would wear African attire, especially for Fox Hill Day; from my mother, who would always wear beautiful headscarves; and also from the late Dr. Thaddeus McDonald (former COB professor) who always wore a dashiki when I was a student at COB.
"My love and passion for and study of Africa was sealed when I went to university in Minnesota where the largest population of African migrants lived. I saw the beauty of the parallel of the two cultures (African and Bahamian), the way they danced, dressed and cooked. It was penetratingly impactful upon me."
"We will be required to return one day, to reach out to Africa culturally, socially, economically, intellectually and spiritually. Our children will be confronted with the depth of their identity as they go off to college and university and I want to be present for when they return to ask questions. I serve as a symbol and I have created a sacred space (AIA) as they return to ask questions."
Her family trip to Ghana earlier this year solidified her perspective and her purpose as a symbol for the culture and ancestry of the majority of the Bahamian population. She resides in an area which still honours Africa today with Fox Hill Day, a week after Emancipation day, yet the most outstanding and long-standing celebration on the island for the holiday, drawing thousands from around the island.
"I was born and raised in Fox Hill, attended school and reside in Fox Hill, and my burial plot is in Fox Hill; I celebrate its powerful legacy and its lineage of great leaders," she said.
Just weeks after her return from Africa, Jacinta received a new appointment as the Director of Gender and Family Affairs in the Ministry of Social Services and Community Development. Veteran Educator Joan Rolle has filled her post as President of AIA, with Rhonda Wright serving as principal.
Speaking face-to-face with her last week, she said: "In the past four weeks, I have had the awesome opportunity to merge my professional training as an educator with my passion, which is to serve people. I recognise the planetary, providential, divine purpose for which I was born, which is to bring value, decency and divinity to every person I meet in this appointment."
She sees the post as an opportunity to focus on the cause of human rights and will head to Geneva, Switzerland next month with a team to present The Bahamas' report on CEDAW (Convention on the Elimination of all forms of Discrimination Against Women), a United Nation's international Bill of Rights for women.