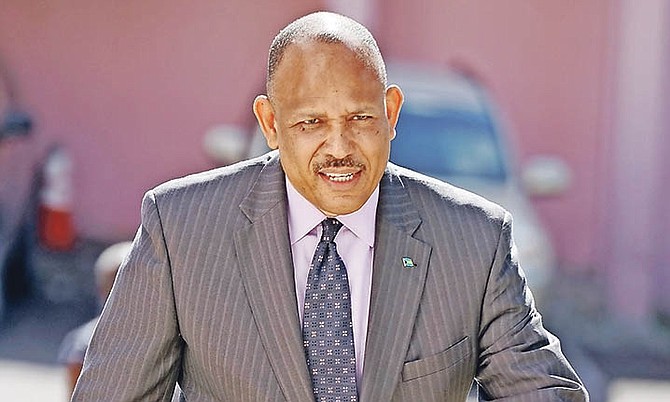 By NICO SCAVELLA
Tribune Staff Reporter
nscavella@tribunemedia.net
HEALTH Minister Dr Duane Sands yesterday admitted to not formally presenting Cabinet with the $1.9m contract he approved for a local cleaning company owned by the key witness in former PLP Senator Frank Smith's criminal trial, despite conceding that the practice is customary for contracts exceeding $1m.
Dr Sands, taking the witness stand before Chief Magistrate Joyann Ferguson-Pratt, told the court that the reason he did not formally present the $1,862,978.16 contract to Cabinet for its consideration was because "there was no need" to do so.
And that came after the health minister admitted to having deviated from normal procedure when he approved the near $2m contract for Barbara Hanna's Magic Touch Cleaning Company ahead of the approval of the Public Hospitals Authority's board of directors.
Dr Sands, in response to questions put to him by lead defense attorney Keith Knight, QC, further acknowledged that where there is deviation from standard procedure, motives for said deviation, irregularity and inappropriateness, as well as "political patronage" can come into play.
However, during re-examination by lead Crown attorney Edward Jenkins, QC, Dr Sands suggested that there is no set procedure on taking contracts before Cabinet, and claimed that the procedure for taking such matters to Cabinet varies depending on whether the contract in question is "ministerial" in nature or a contract concerning one of the quasi-government agencies.
Thus, according to Dr Sands, the rules that would apply to a ministerial contract wouldn't apply to contracts for quasi-government agencies.
Dr Sands said that with contracts similar in size to that awarded to Magic Touch, he would "sometimes" take it to Cabinet. In the present case, he said a formal paper was not presented to Cabinet, but the group had an "at the table discussion".
Dr Sands ultimately maintained that based on his understanding of the PHA Act, there is no requirement of the PHA to take such matters, financial in nature, to Cabinet.
According to the evidence led at trial, on August 9, 2017, Dr Sands held a meeting with then PHA managing director Herbert Brown and incoming PHA chairman Julian Rolle subsequent to a "crisis" that had arisen at the Princess Margaret Hospital where the contractor at the time was underperforming.
Dr Sands also said serious concerns were being expressed by executive management in the hospital on the issue, as well as by the administrative heads of the departments affected.
As a result, Dr Sands said the issue needed to be dealt with.
During the August 9 meeting, Dr Sands said he, Mr Brown, and Mr Rolle discussed the decision that needed to be made as a result of the recommendation of the PHA's Tender Evaluations Committee concerning the contract for the cleaning/janitorial services at PMH.
According to Dr Sands, the result of that meeting was that the matter would be placed on the agenda for the first substantive board meeting, and that notwithstanding the committee's recommendation, because it was a controversial issue, the matter should be transferred to the Office of the Attorney General in a bid to obtain legal advice.
Yesterday, Dr Sands said he gave instructions for the issue to be placed on the board's agenda for discussion during its initial business meeting, and having given those instructions, he expected that it would be done and that he had no reason to believe that it would not happen.
"Certainly, there would have been no way for me to go back and verify that the board had not considered it as they were meant to consider it on the basis of the agenda that had been created," he said.
Dr Sands said he was present at the subsequent August 16 meeting -- which he said was a "social event" primarily -- but only during the introductory part; he said he gave a charge to the board and then left.
Additionally, Dr Sands said he did not see any board agenda for that date.
Dr Sands was also shown a copy of a Tribune report dated June 16, 2017, in which he addressed "sickening" levels of alleged malfeasance and "improper behaviour" at the Ministry of Health at the time.
Mr Knight in particular read the portion where Dr Sands was quoted as saying: "I think what is different this time is there is truly the political will to find the evidence and adhere to the rule of law, but at the same time eradicate that culture that says you can take liberties with the people's money and get away with it."
Linking his statements then to the present matter, Mr Knight asked Dr Sands if he had the "political will" to go and find evidence concerning the trial. Dr Sands replied by stating no, and that it's "not my job".
Mr Knight then asked Dr Sands if he would be surprised to hear that as opposed to him telling the court that Mrs Hanna didn't go to the police concerning the allegations against Smith because she was afraid for her safety and dealing with "very powerful people," when Mrs Hanna gave evidence, she said she called Smith and warned him to "be careful, they are out to get you."
Dr Sands said "no" in response.
Additionally, Dr Sands denied being one of those people allegedly "out to get" Smith.
"I'm not out to get anybody," the minister said.
Smith is facing 15 criminal charges concerning his alleged solicitation of $65,000 in bribes from a woman he is said to have assisted in getting a contract. He is currently out on $50,000 bail.
It is alleged the former PHA chairman, between April 2016 and April 2017, demanded and obtained $5,000 per month from Mrs Hanna, knowing he was not lawfully authorised to do so.
He is also alleged to have attempted to extort another $5,000 from Mrs Hanna.
Concerning the bribery charge, it is alleged that he solicited $5,000 a month from Mrs Hanna for helping her to get a PHA contract.
Smith pleaded not guilty to all the allegations during his arraignment in July 2017.
The case continues on November 13.