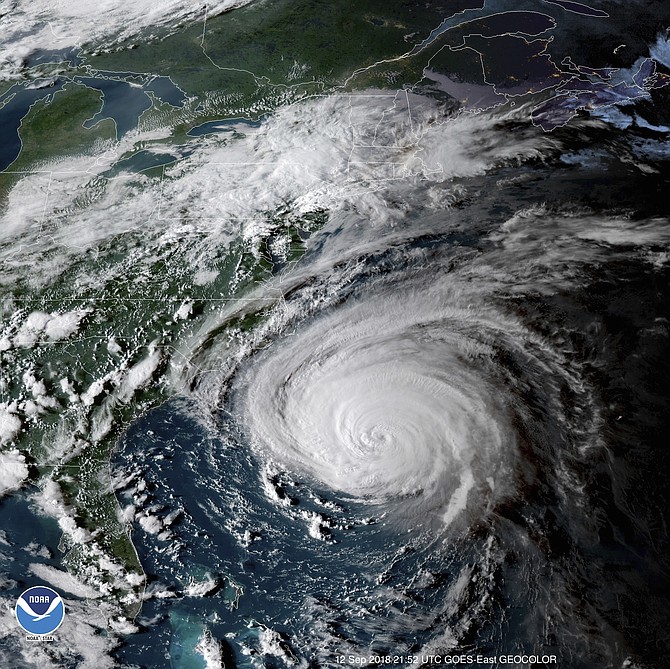 By RASHAD ROLLE
Tribune Staff Reporter
rrolle@tribunemedia.net
OFFICIALS in North Eleuthera, Cat Island and Abaco are on high alert over Hurricane Florence.
In Eleuthera, officials are monitoring Florence to determine if there will be a need to close the Glass Window Bridge.
National Emergency Management Agency director Captain Stephen Russell said Tuesday that as the hurricane barrels toward the United States of America, Eleuthera, Abaco and Cat Island could experience storm surges with sea swells reaching as high as 20 feet.
Ivan Ferguson, the island administrator for North Eleuthera, noted there are no settlements along the coastline that could be most affected by this, saying officials are focused on the bridge and whether it could remain operational. Earlier this year an American man was killed when he was swept off the bridge. Eleven other people were also affected.
Mr Ferguson said: "Residents are keeping a keen eye on the storm but I'm also of the feeling that they believe it is not going to have any direct impact on them. They have been asking questions about the impact it will have on the bridge. I've visited the bridge at about 6am this morning (Wednesday) and I was out there late (Tuesday) and there is light wind but no turbulence or swells so far. North Eleuthera's Disaster Preparedness Committee is in preparation mode. In any event of a change of trajectory for the storm, we are prepared to deal with the situation but certainly most questions relate right now to crossing the bridge and the safety of doing so."
Mr Ferguson noted that unlike earlier this year, traffic at the bridge during this season is typically low.
"There is very little traffic across the bridge because most of the resorts and tourist establishments are closed in Harbour Island where the bulk of the employment is," he said.
"We are monitoring it. If we feel it is unsafe for crossing, we will inform the media and we have chat groups that we will disseminate that information to."
Officials use chains to cordon off the bridge to prevent people from crossing.
"We use chains at both entrances to the bridge and we're assisted by the police in enforcing the closure of the bridge," Mr Ferguson said. "Some persons have a tendency to circumvent the chains and manage to cross over. We have no control over that."
Teresa Bootle, the island administrator in Abaco, told The Tribune no evacuations are planned for residents near the coastline of that island.
"Our disaster group remains vigilant," she said.
Neil Campbell, the island administrator for Cat Island, noted their island's roads run near the coastline as does a school, prompting concern from teachers.
"We think we are ready," he said.
"Between yesterday and today I along with the ministry of works personnel we checked the drains on the island and the previous day we had a council meeting and discussed our state of readiness with equipment and servicing them," he said. "We sent out advisory through WhatsApp and police assisted us in getting advisory out to mariners and beachgoers. We did our tsunami drills on the island three or four months ago. We say 'go' and people know what places to go to. We're hoping the hurricane doesn't significantly affect us."