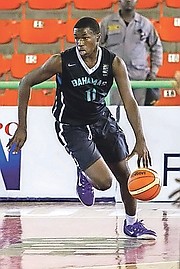 By RENALDO DORSETT
Tribune Sports Reporter
rdorsett@tribunemedia.net
FOLLOWING a busy summer recruitment period, Sammy Hunter heads into his final season of prep school in Canada and his NCAA decision could be coming in early 2019.
"Maybe sometime after January. My family and I are still thinking about it," Hunter said on the 10th Year Seniors podcast.
"The recruiting process has been a learning experience. The schools that have recruited me want to know who you are as a person, what you plan to do in school, what you do off the court, about your family. It's about you as a person and not just as a basketball player."
For much of the summer, it was a relatively slow recruitment process for Hunter, but he quickly picked up five NCAA Division I offers in just under two weeks.
The latest programmes to offer scholarship offers were the Kansas State Wildcats and the Western Kentucky Hilltoppers.
Hunter received his first high major offer from the Arkansas Razorbacks on August 21.
Since then, the 6'9" forward in the class of 2019 also received offers from both the Ole Miss Rebels and Grand Canyon Antelopes. The Rebels currently have Bahamian ties with Franco Miller Jr on their men's roster, while Yolett McPhee-McCuin is the head coach of the Rebels women's programme.
"It got crazy after that 10-day span," he said.
"Before I wasn't getting recruited from big schools and power 5 conferences, but now it's happening and I thank God for it," added Hunter.
Hunter previously fielded Division I offers from Santa Clara, San Francisco, Chicago State, Colorado State, Fresno State and Pacific.
His summer recruitment continued to accelerate following his performances against elite Division I competition at the Bahamas Basketball Federation's Summer of Thunder.
Hunter also garnered an offer from the Antelopes after he posted 16 points and seven rebounds against the team at the Summer of Thunder.
He finished with 19 points and eight rebounds against Notre Dame and followed with 18 points and five rebounds against North Carolina.
A former student at St John's college, prep school in Canada was not the original choice, but an opportunity he discovered after the United States was no longer a possibility.
"It took some convincing. My visa got denied for the US so Canada was the next best thing. I had a friend that went to BC, I liked what the coaches had to offer in terms of getting me ready so I thank God for that. I didn't know anything about Canada, my mind was just set on the US for basketball but the last few years, but I discovered another route," Hunter said.
"The prep school experience, it feels like you're in college already. You have to send out your school work while on trips, we play 40-plus games, we travel a lot so you find a way to fit in with time management."
He recently made his senior men's national team debut in July at the Central American and Caribbean Games in Barranquilla, Colombia.
"No matter where it is you have to perform, I knew I wouldn't play as much so my goal was to score every time I touched the floor," he said. "It was a good experience, I got advice from pros who have been around the game. I'm 17 and I don't know anything so they were a great help."
Hunter was also a member of the 2016 CBC Under-16 Championship team when he averaged 12 points and 5.5 rebounds per game and the 2017 Centrobasket U-17 Championship team when he averaged 14.6 points and 6.8 rebounds per game. It was then that he first drew the interest of NCAA programmes who approached him following the tournaments.