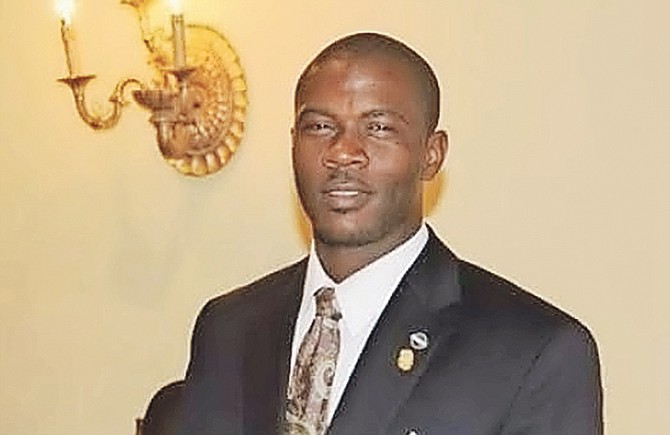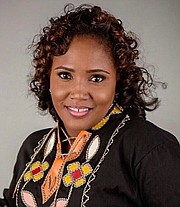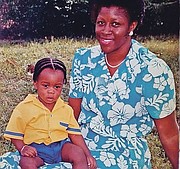 By Felicity Darville
Amein Burrows has completely turned his life around and believes if he has done it, so can the countless young men in this country who find themselves in a revolving door situation with the cops and the courts. He found the life he was chasing after – quick, fast money, nice cars and girls – came with a price too heavy to bear.
Amein grew up in the Englerston community in the home of his grandparents, Wilfred and Priscilla Forbes - where he and his mother lived until she was able to purchase her own house and move to the Coral Harbour area. As a single mother, Deborah Forbes did all she could to provide a good education for her son. Amein was a twin, but his sister died at birth, meaning he would grow up as an only child. Deborah, a barber by profession, poured her earnings into Amein's schooling. He attended pre-school at St John's Native Baptist Church and then attended and graduated from Xavier's College for primary school.
"My mom and I had to wake up early before the sun was up sometimes," he said.
"She would give me a cup of cerasee before I get my oatmeal and then drop me to school. She worked at Cliffie's barber shop for most of her career. The barber shop opened at 7.30, so mom had to be to work early. Sometimes I would be the first child there and I would have to wait with the security guard. She did what she had to do to help me succeed in life. She put a lot of effort in to pay for my school fees but I was a mischievious boy. I wasn't a dumb boy; I stayed in my books and I was good at sports, but boy I was mischievious."
Amein first attended St Anne's for his high school education, but he got in a fight with one of his best friends, Keil Cartwright, who is still a best friend of his to this day. While at the office on punishment awaiting parents, the two boys found out their fathers were actually best friends. This led them to bury the hatchet. However, he had too many suspensions at that point and he was expelled from the school.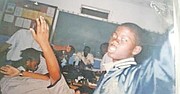 He went on to Faith Temple Academy, but ended up in a fight that landed him in hospital. After spending most of his schooling years in private school, Amein had to finish up at HO Nash for junior high and CR Walker for senior high – but a fight there led him to drop out of school before graduation.
Growing up, he did not get to see much of his dad, Henry Burrows, but his paternal grandmother, Doris Burrows, made sure to be a part of his life and to push him to be his best. Later on, he also benefitted from spending time with his father's family at the prodding of his wife, Arlene (nee Chipman) and his siblings Aaron and Beko Burrows, as well as Shakima, Sharif and Josh.
But for Amein, growing up in Englerston in a five-bedroom home with his grandparents, aunts and uncles and all of their children meant he came from an entirely different atmosphere from his private schoolmates. "Back in those days, my mother would get letters from the school, not even a paragraph long. It basically said 'don't come back'," said Amein.
"Knowing I came from Englerston… going to school with kids who were rich, whose moms and dads could give them this and that… I was probably looking for attention. I know I had the book smarts. When I was at HO Nash, they put me in an all boys class and I graduated at the top of that class. My private school education benefitted me."
Amein was lucky to have been employed by Caribbean Bottling in the merchandising department after he was kicked out of school. He had gained summer employment there during his schooling years. Mentors there like Nathaniel Adams and Highland Smith gave him "positive words of inspiration" and encouraged him despite the hard road that brought him there. He actually loved working there as he was responsible for erecting Coca Cola signs at business establishments and national events, ensuring the brand looked good and was well represented.
"I was there for years and I worked hard; I even got my driver's licence while working there," Amein said.
One day, he was lured to a better paying job at a gaming house and informed his supervisor's secretary, Rosie Major, that he was going to leave. Ms Major warned him he was leaving for a few dollars more instead of staying with a company where he would have a chance to educate himself, move up the ranks and eventually demand more money. It turned out she was right. Over the years, Caribbean Bottling would give him two more chances before the human resources department had enough and he was no longer re-employed. Looking back, he wishes he had stayed with the company that supported him from the start and took back a hard worker even after he pursued other ventures and returned.
In one instance, he was working for a landscaping company that was paying him so little money and working him so hard he couldn't take it. He spent three weeks on the job and saved up and bought his own tools: a lawn mower, cutlass, weed-whacker, clippers and a rake. His mother allowed him to drop her to work each morning and he would use her truck to go out making money.
"I would put my tools on the truck and drop her to work," he said, "and wherever I saw a heap of trash in a yard I would stop and ask the owner if I could move it and clean up the yard."
"At first, I was really underpricing myself. It would look like a small heap but once you get into it, it was a lot of trash. I had to work very hard and I was beating up my mom's little Isuzu S10 truck. I lost a lot over the years until I learned how to properly price my jobs."
One day, Amein was on his way in Englerston after a hard day's work. His mother's truck was overheating and it broke down just a few corners away from his grandparents' house. Some friends he knew from one of the private schools he'd attended, guys he used to run with in track and field, were hanging out at a vacant lot nearby and helped him push the truck off the road and into the lot. This would be a life-changing event for him, and not for the better.
"They helped me push the truck into the yard and there they were, my friends from school just hanging out and chilling," he recalls.
"They had on big chains and were riding fresh cars and motorbikes. All these girls were around. My boy yuck out a big gunk (of money). He was making in an hour what I would make in a week. I was thinking about how hard I was working and I said to myself, 'boy, I need to try this'. From that day on, I started to wear my white T-Shirt, blue jeans and my fresh kicks (tennis). I was hanging out on the corner smoking, trying to stand up on the corner and sell drugs. We were getting into home invasions, stealing other people's drugs… that real stuff… the kind of stuff that you do tonight and tomorrow morning you are a thousandier.
"Doing all of that, I ended up in jail charged with a firearm and conspiracy to commit armed robbery, almost ready to do 15 to life (imprisonment). I was locked up with six of my boys, not knowing they all were saying 'Amein did it'. I was thinking they were my friends. But I put it together when I saw this one getting out in four months, then the next one in five, and I was still locked up. I wasn't seeing them (in prison) like that because the police had beat me up and I was pissing and vomiting blood so I would be on the medical block.
"I went to court one day and the judge pointed out that there was a difference in me. They would come to court in blue jeans and T-shirts and I would always be in a button-down shirt, jacket on and sticky mouth shoes. The judge asked me why everyone was pointing a finger at me, and I said I don't know. She said 'But you call them your friends'. Eventually she let me out on bail and my mother and aunt came to bail me out."
After that experience, Amein would still end up getting locked up and charged again, this time for drug possession. When he got out of jail the first time, he returned to the blocks despite the pleading of his mother. His uncle, Tilly Burrows, a well-respected prison officer, would always check on him and chide him for his actions, reminding him of the sacrifices his mother made for him and encouraging him to be the person he was destined to be. His grandfather, aunts and uncles all implored him to make a change.
It was the look on his grandfather's face when he came out of jail the second time that impacted him. The disappointment was a lot to bear. He remembered the days when he would follow foot to foot behind his grandfather on his farm on Cowpen Road. His grandfather would tell the children to stay when he went on his farm trips, but Amein would hide on the back of the truck and his grandfather wouldn't know he was there until he arrived at the Cowpen Road farm. His grandfather taught him how to plant and care for trees – a skill which remains with him to this day.
"I notice when I plant something, it doesn't die," he said, "And when I plant it, the rain comes right after."
He decided to turn his life around and focus on something he was naturally good at. Today, he is a certified horticulture professional and a foreman at Caribbean Landscaping. He is also the proud owner of AA Burrows Landscaping, Painting and Restoration with the motto "The Client's Perception is Weighed Entirely on Our Scale of Action". He thanks Bernie Minnis of the Artistic Group (landscaping) for teaching him much in the profession and encouraging him to become certified.
Amein is now a grateful member of Toastmasters Club 1600. He has helped to steer young boys away from the life of crime he experienced. At TG Glover, he ran a club for a couple of years, where he focused on 13 young boys who were at risk, teaching them literacy and life skills. Parents thanked him because they saw great changes in their children. He also is a mentor for the Moral Recognition Therapy Group, where he gets to share his experiences and help motivate young men, some his age (32) and even older.
He thanks his mother for never taking any of the drug money he made, telling him that she would only accept money from him if he worked hard for it. She set a good example; she earned a doctorate degree in cosmetology and now runs her own salon – Debbie's Barber and beauty, in the same spot on Market Street in the downtown area where the famous Cliffie's once operated for decades.
His advice to those wishing to get out of a life of crime: "Don't ever think if you want to make a change in your life and go in a different direction that you can't. Hang with different people. Look for people who would push you into doing something positive with your life instead of doing things that could cost you to end up in jail or cost you your life. Don't ever think that because you did so much negativity in the past that there is no hope for you. Leave it in the past. Find something you are naturally good at. Anything can sell. Give it a try and watch your dream come to life."