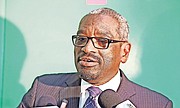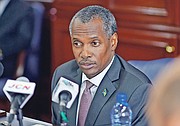 By KHRISNA RUSSELL
Deputy Chief Reporter
krussell@tribunemedia.net
PRIME Minister Dr Hubert Minnis said yesterday that he "absolutely" still has faith in Public Works Minister Desmond Bannister despite several fires at Bahamas Power and Light Company, triggering power outages in the country.
The most recent of these happened over the weekend leaving some areas in darkness for up to 12 hours.
The prime minister rejected the Progressive Liberal Party's criticisms on Sunday saying the Official Opposition is only opposing the government because it has nothing else to say.
"Absolutely, I have great faith in the minister," Dr Minnis said in response to a question from the media. "The opposition has a job and that job is to oppose. They have nothing else to say so they just speak pure negativity.
"That word is top and priority on their lips right now, 'Negativity' with a capital N."
These remarks are fairly new from the prime minister who has in several weeks only repeated that an investigation would be done to look into reported infighting among BPL's former board of directors.
Press secretary Anthony Newbold recently confirmed the body responsible for carrying out such a probe had not yet been constituted.
Dr Minnis yesterday was responding to PLP Chairman Fred Mitchell who on Sunday again called on the Minnis administration to provide Bahamians with a "full, frank and honest" explanation on the circumstances surrounding the latest fire at the BPL's Baillou Hill sub-station.
The PLP has also repeatedly called for Mr Bannister to resign from his substantive Cabinet post.
"With four fires in one week," Mr Mitchell noted,"the public is understandably losing confidence in the current administration's ability to competently manage BPL and facilitate the much needed energy sector reform this government promised."
"If the substantive minister is not up to the task, he should be mercifully relieved of this duty in the public interest.
"To date," Mr Mitchell continued, "the government has managed to politically interfere with the work of the BPL board and needlessly incurred additional expenses in excess of one hundred million dollars in equipment damage stemming from these fires."
"This total break down in leadership is inexplicable and inexcusable," he said.
"Dr Minnis said he had no plans or vision for BPL and the voluntary separation exercise, followed by these catastrophic fires are turning out to be a self fulfilling prophecy. We pray that God helps us all in the midst of this haplessness and crisis in leadership," Mr Mitchell said.