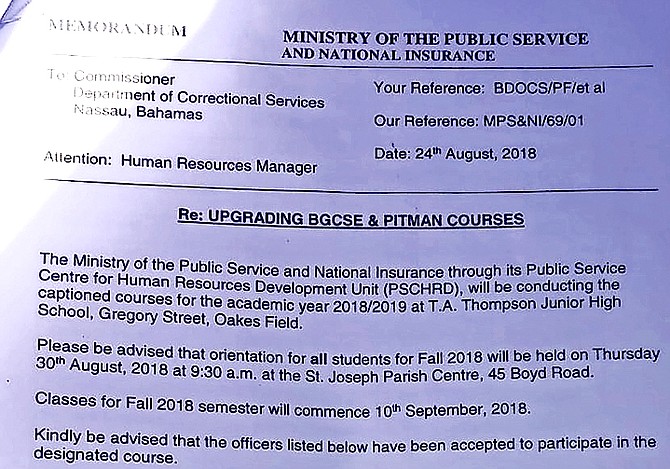 By RICARDO WELLS
Tribune Staff Reporter
rwells@tribunemedia.net
THE Correctional Officers Staff Association has taken issue with the Department of Corrections' decision to promote just over 60 officers despite a lack of the minimum educational qualification.
In a statement to The Tribune yesterday, COSA President Ryan Wilson revealed that a memo (pictured), which notified several dozen officers of their acceptance into a BJC programme being sponsored by the Ministry of Public Service and National Insurance's Public Service Centre for Human Resources Development (PSCHRD) unit, had been accidentally sent to a majority of officers.
The memo was signed by a representative of the Permanent Secretary and directed to the Human Resources Manager at the Department of Corrections.
According to Mr Wilson, the minimum education requirement was used in the past to disqualify scores of other officers from potential promotions.
Referring to the August 24 memo yesterday, Mr Wilson said the document finally makes public the bias and unethical practice by which promotions at the facility are considered and determined.
Mr Wilson in his statement contended that in a 2014 promotional exercise, scores of officers received suppression letters from the department advising that they could not be recommended for promotion, in most instances, because they lacked the professional qualifications required to be promoted to the next rank.
"Officers have for many years agitated for a review and overhaul of the irrational, arbitrary, and unfair practice which the promotion exercise appeared to be subjected to," he said.
"The August 2018 circular contains the names of over 60 officers who were promoted in the last promotion exercise notwithstanding that they did not have the minimum educational qualification, English BJC or equivalent, for the promotion."
Mr Wilson stressed that previous COSA administrations battled through years of poor communication on the part of the Department of Corrections.
He added that the entity's dismissive posture towards the grievances of officers, particularly those concerning promotions, are often ignored.
Mr Wilson argues that as COSA President, he should be entitled to a seat on the promotions board.
He claimed that promotional exercises are routinely conducted without notice to the President of the association.
Mr Wilson implored the Department of Corrections to reconsider its position on the policy given the stagnation it has caused in the lives and careers of many officers.
Mr Wilson said he is only seeking justice for his members who have been superseded, whether intentionally or as a result of the policy.
"Justice will not be served until they are restored; all seniority lost attributed, remunerated for the salary lost, perpetrators of this corrupt practice redeployed or terminated and this corrupt practice ends," he said.
"I expect that the public will join with us in this demand for fairness and full transparency in the decisions affecting the Corrections Officers and other loyal employees across the Civil Service," he added.
Mr Wilson was elected Correctional Officers Staff Association (COSA) President in March.
The association was formally referred to as the Bahamas Prison Staff Association.