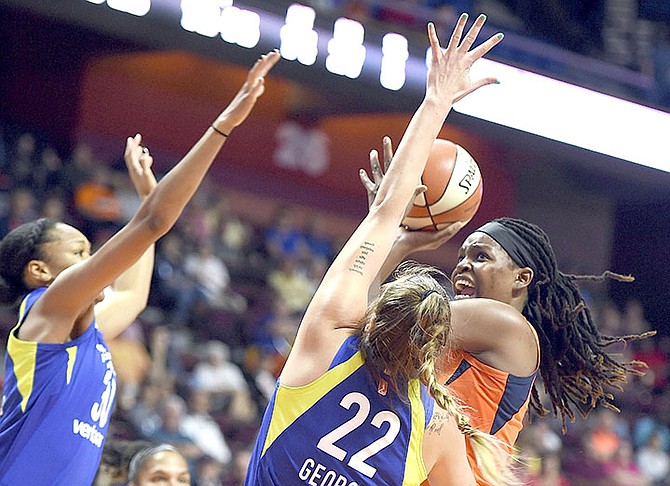 By BRENT STUBBS
Senior Sports Reporter
bstubbs@tribunemedia.net
Although they've been trying for the past two years to convince her to change her mind, Women's National Basketball Association player Jonquel Jones has switched allegiance from the Bahamas and will now be playing basketball on the international scene for Bosnia and Herzegovina.
Bahamas Basketball Federation's first vice president Mario Bowleg confirmed that after exhausting all avenues to keep Jones in a Bahamian uniform, they granted her release to play for the country on the Balkan Peninsula in southeastern Europe. The 24-year-old Grand Bahamian native, who recently completed her second season with the Connecticut Sun in the WNBA, will now play with a European passport in a move that will also enable her to gain more money than she would earn as a Bahamian.
"We tried to stall the time and talk to her and let her know that we would do whatever we can, along with talking to the Bahamas Government, to get her to change her mind," Bowleg said.
"In recent weeks, she came back and told us that her mind was made up and she still wanted to do this because it was all about her ensuring that she was able to make the maximum amount of earning that she could through playing the game of basketball all around the world."
The more financial European League has been known to compensate their players a lot more than they would get in the WNBA.
As a player with a European passport, Jones now stands to make at least 10 times more playing in the European League than she would make with a Bahamian passport.
"It was a financial decision for her," Bowleg said. "The European countries know that and so they have been enticing the players to come and play and represent their country.
"It's not a choice that she just wanted to go and play for them and not for the Bahamas. It's a financial decision that she made that will be more beneficial for her and her family."
Even though they tried to convince her to stay with the Bahamas, including placing her on the elite subvention programme offered by the government to earn about $34,000 a year, Bowleg said it's no match for the type of salary she could secure with a European passport.
At 6-feet, 6-inches, Jones has blossomed into one of the top players in the WNBA since she got drafted in the first round with the sixth pick overall in 2016. As the second Bahamian to play in the WNBA, coming out of Clemson and George Washington universities, Jones had her breakout season in 2017 in her starting role.
She went on to make the WNBA All-Star game where she achieved her first professional career slam dunk. She finished the second averaging a double-double in points and rebounds and also averaged career-highs in scoring, rebounding and block shots.
As a footnote to her success, Jones went on to break the single season rebounding record of 398 - previously held by Tina Charles and Sylvia Fowles - with a total of 403. For her accomplishment, Jones was named the WNBA Most Improved Player. The only thing she didn't do last year was get the Sun into the WNBA final after they got eliminated by the Phoenix Mercury in the playoffs.
This year, she experienced some delay in getting her passport, which ultimately led to her reporting to the Sun's training camp late. She eventually saw her role reduced.
Although she was named the WNBA Sixth Woman of the Year, Jones and the Sun found themselves in the same predicament that they were in last year, facing Phoenix, who once again abruptly ended their season in the second round of the playoffs.
In the three years she's played in the WNBA, Jones has appeared in 102 games, starting in 56. She has played an average of 21.0 minutes with a field goal percentage of .539, three-point of .439 and free throw of .764. She has pulled down 7.0 rebounds per game, dished out 1.3 assists, stripped 0.7 steals, blocked 1.2 rebounds, turned the ball over 1.3 times and had an 11.3 scoring average.
While playing for George Washington, Jones suited up for the Bahamas women's national team at the Caribbean Basketball Confederation in 2014 in Tortola, British Virgin Islands.
The Bahamas team, coached by Yolett McPhee-McCuinn, ended up in fifth place as Jones averaged a tournament high 14.0 rebounds, was second with 17.2 points and fifth with 1.4 blocks per game in the five games they played.
"Playing for my country was a reward in itself, though it was disappointing not to achieve our team goal of winning the gold medal," said Jones, in an interview at the time of the tournament.
Jones was unavailable for comment, but Bowleg said she found herself in similar situations as so many other Bahamian athletes who have been approached by other countries to compete for therm.
"I think our women's team stood a very good chance of getting to the next level with her and coach Yolett," Bowleg stated. "When we put that combination with the better players we have, we believe that the chances of them getting to the Olympics was very great.
"Unfortunately, Jonquel puts herself in a position where she will no longer be able to represent the Bahamas in any international competition. She understands that. We were somewhat disappointed, but it came down to what was more important to the individual. At this point and time, it came down to earning the maximum dollars for her family."
Bowleg said the federation did its best to try to convince Jones to stay and they have the trail of the paperwork to proof it. But he said she made her decision and they have to live with it. He wished her every success in her new endeavour.
Bosnia, with a population of 3.5 million people, is on the verge of preparing to compete in the FIBA Women's Eurobasket, scheduled for Serbia, Lativa from June 27 to July 7. The tournament will serve as a qualifier for the 2020 Olympic Games in Toyko, Japan.
With Jones now available to be inserted into their line-up, Bosnia is hoping to change their outlook and projection at the tournament. The Bahamas, on the other hand, will have to continue its climb up the ladder without its best player.